Things to Do in Asheville This Weekend — December 13 - 15, 2019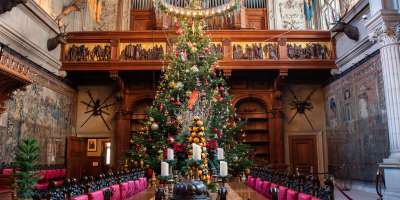 Celebrate the holidays with ongoing festive traditions taking place around the city, including the Lake Julian Festival of Lights, Christmas at Biltmore, the 2019 National Gingerbread Competition Display at The Omni Grove Park Inn, and the twinkling Winter Lights display at the North Carolina Arboretum.
Get the complete list of must-do activities with our guide to holidays in Asheville 2019. Looking for brilliant light displays? Read our story on 8 ways Asheville sparkles for the holidays!
Don't miss your chance to experience this joyful time of year! Utilize our easy-to-use search to check room availability and rates at Asheville area accommodations, and be sure to check out the special deals and packages. And, you can check events for any date by using our events calendar search.
Here's a look at what you can enjoy this weekend in and around Asheville
River Arts District Second Saturday Holiday Celebration
Saturday, December 14, 10:00 a.m. - 6:00 p.m.
River Arts District
Meet some of Asheville's top artists during this open studio stroll this Saturday. This monthly event allows the public to get a behind-the-scenes look into Asheville thriving art scene, attend classes, watch demonstrations, or take part in special events. This weekend is a special celebration of the season with a holiday market, a trunk show, and a multiple-gallery holiday party. A complimentary hop-on/hop-off trolley will take you around to all of the galleries.
Free Theater! A Moppets Christmas Carol
Fridays – Sunday December 13 – 15, 5:00 p.m.
Hazel Robinson Amphitheater
The Montford Moppets, the youth theatre division of the Montford Park Players, have put a fresh spin on Charles Dickens' A Christmas Carol. Performances are free but advance reservations are highly recommended. Dress warmly as this is an outdoor performance.
Be The Change Festival
Saturday, December 14, 11:00 a.m. –3:00 p.m.
Asheville Middle School
Get ready for the Be The Change Festival hosted by SaulPaul from America's Got Talent. This free family festival features interactive exhibits, live musical performances, fun games, delicious food, and DJs. You could also win $5,000 in gift cards, or one of multiple 40"-50" flat screen TVs.
Swannanoa Winterfest
Saturday December 14, 4:00 p.m. – 8:00 p.m.
Grovemont Square - Swannanoa
Take a break from holiday preparations and enjoy the spirit of the season at Swannanoa Winterfest, a unique new community celebration that brings a taste of Old Europe to the Swannanoa Valley, located within a few minutes drive east of Asheville. Modeled on the traditional German Weihnachts markets, the Swannanoa WinterFest will feature a variety of artisans, and vendors offering holiday-themed items under festive lights. Highlights include caroling, activities for kids (including an appearance by Olaf!), and special European treats.
Santa on the Chimney
Saturday December 14, 11:00 a.m. – 2:00 p.m.
Chimney Rock State Park
There's no way Santa could make it down so many chimneys without practice. What better place to prepare for his Christmas deliveries and stay in shape than on one of the world's largest chimneys: Chimney Rock at Chimney Rock State Park. Make your list and bring it to Santa and Mrs. Claus, enjoy live holiday music, hot cocoa and cookies and kids' activities. See our guide to Santa on the Chimney for more information.
The Santaland Diaries
Friday – Sunday, December 13 – 15, various times
Black Mountain Center for the Arts
Watch a stage adaptation of the David Sedaris' novel, The Santaland Diaries, which tells the story of a down-on-his luck wannabe actor in New York City. The only employment he can find is at Macy's department store -- working in Santaland for the holiday season, as a reluctant, but relentlessly cheerful, elf. Newly christened "Crumpet", our clever anti-hero shares his observations of the mayhem in front of and behind the scenes during one chaotic December, from aggressive parents and drunken Santas, to flirtatious actors, and poor hygiene. This show is for adults only.
Midnight Summit Release Party
Friday, December 13, 12:00 p.m. – 10:00 p.m.
Highland Brewing Company
Best enjoined by a roaring fire, Highland's seasonal vanilla milk stout returns this weekend. This beer perfectly melds together creamy notes of vanilla, chocolate, and coffee. Get your first taste of this seasonal brew at our Taproom release party this Friday.
Ongoing Asheville Events
Downton Abbey: The Exhibition
Now through April 7, 2020, 9:00 a.m. – 5:00 p.m.
Biltmore
Fans of the popular the global hit television series will love the new exhibit at Biltmore, which offers never-before seen interactive elements that connect you to your favorite characters, as well as the fashions, locations, and historic events of the time period. Showcased in two estate locations, Downton Abbey: The Exhibition pairs seamlessly with the real-life story of the Vanderbilt family. The Exhibition is included with daytime admission, Candlelight Christmas Evenings admission, or an overnight stay that includes daytime admission.
Christmas at Biltmore
Now through January 5, 2020 10:00 a.m. – 5:00 p.m.
Biltmore
It's a holiday tradition that dates back more than 120 years. During the two-month-long Christmas at Biltmore celebration, the estate transforms with elegant and stunning decorations that include more than 100 hand-decorated Christmas trees. Among the most beautiful trees is the 35-foot Fraser Fir laden with ornaments and wrapped packages that serves as the centerpiece in the grand Banquet Hall. The Conservatory in the Walled Garden is filled with fresh poinsettias. And, 7,000 globe-shaped ornaments hang from the ceiling of Biltmore Winery, America's most visited winery. A daytime visit to Christmas at Biltmore is included in your admission.
In the evenings, Biltmore glows during Candlelight Christmas Evenings with thousands of twinkling lights and dozens of roaring fireplaces. Step back in time and experience the estate much like the Vanderbilts did during their first Christmas Eve spent at Biltmore in 1895. As you stroll into the estate past luminaries that line the walkway, stop to see the 55-foot Norway spruce sparkling on the front lawn. Candlelight Christmas Evenings do require a reservation and separate admission.
For more information on the daytime and evening celebrations, see our guide to Christmas at Biltmore.  
Winter Lights at the North Carolina Arboretum
Now through January 4, 2020, 6:00 p.m. to 10:00 p.m. (Daily)
North Carolina Arboretum, Asheville
One of Asheville's brightest holiday traditions kicks off this weekend at the North Carolina Arboretum. More than half a million lights will be on display as part of this self-guided walking tour through the nationally recognized gardens. Transportation from downtown and Biltmore Village is available every Thursday through Saturday with a special trolley ticket. Listen to the sounds of your favorite holiday tunes and enjoy a cup of holiday-inspired cocoa, cider or beer.
2019 National Gingerbread House Competition Display
Now through Thursday, January 2, 2020, 3:00 p.m.
Omni Grove Park Inn
Asheville's classic gingerbread house competition returns for its 27th year. Stop by this famed resort to see the parade of handmade edible houses all vying for the top spot in this year's contest. As a means to preserve the overall guest experience. The Omni Grove Park Inn invites guests that are not staying overnight at the resort to view the display after 3:00 pm on Sundays or anytime Monday through Thursday.