Things to Do in Asheville This Labor Day Weekend — August 30-September 1, 2019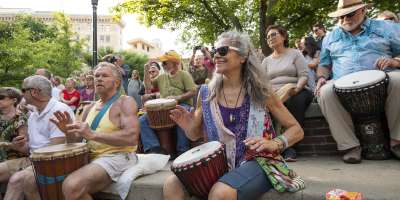 Labor Day weekend is your opportunity to end summer on a high note! Take part in popular street festivals, food adventures, live music performances, theater, and endless outdoor adventure for a fun holiday weekend.
Planning a trip to Asheville is easy. Utilize our easy-to-use search to check room availability and rates at Asheville area accommodations, and be sure to check out the special deals and packages. And, you can check events for any date by using our events calendar search.
Don't miss these great events happening this weekend!
Saturday -Sunday August 31 - September 1, 10:00 a.m. - 5:00 p.m.
Pack Square Park, Downtown Asheville
This two-day festival features a variety of regional and national artists who specialize in handmade works of art. Among the more than 80 artists will be painters, potters, jewelers and glass blowers.
Saturday, August 31, 9:00 p.m.
The Grey Eagle Music Hall and Pub
Ends your summer on a beautiful and funny note with the coolest entertainment in town. Hosted by the sweetest of sweetness, Milli Van Illa, she will charm and delight with a song and a joke. Asheville Vaudeville brings an incredible lineup of performers to the stage of the Grey Eagle to celebrate summer's demise. Don't miss the fun, kids! This is Asheville's largest vaudeville show featuring WNC's best comedy, juggling, magic, burlesque, acrobatics, aerial arts, short plays, puppetry, sideshow, and music.
Saturday, August 31, 7:00 p.m. - 10:00 p.m.
Pack Square Park, Downtown Asheville
This Saturday night, enjoy the final Shindig on the Green of the season, a free, outdoor, mountain bluegrass music and dance festival. The shindigs take place in the heart of downtown Asheville at Pack Square Park on Saturday nights throughout the summer months (June through early September). In addition to scheduled stage shows, Shindig on the Green features informal performances and jam sessions on the stage and around the park. Bring a lawn chair or a blanket and enjoy. The performances begin at about 7 p.m. or "along about sundown" as folks around here like to say! See our guide to Shindig on the Green for more information.
Saturday, August 31, 9:30 a.m. – 4:30 p.m.
Warren Wilson College
What's the difference between a mushroom and a toadstool? How many different varieties are there, and how can you tell which ones are edible? Why do they appear after rain, and how long do they stay around? Join The Asheville Mushroom Club for Fungi Fest, and get answers to all the questions you ever had about mushrooms and the ones you never thought to ask! Check out a huge display of wild mushrooms in all their varied shapes and colors, educational displays, classes, guided mushroom walks in the college grounds, and vendors selling edible mushrooms, cultivation supplies, and fungi-themed crafts & gifts. Admission ranges from $5-$20.
Saturday, August 31, 12:00 p.m. – 10:00 p.m.
plēb urban winery
Celebrate the one-year anniversary of this popular wine bar in the River Arts District. Get a production tour, enjoy a cookout with the Chop Shop Butchery, and sample some delicious wine.
Friday, August 30, 8:00 p.m.
The Grey Eagle Music Hall and Pub
Get a guided tour of odd and hilarious VHS footage with hosts Joe Pickett (The Onion) and Nick Prueher (The Colbert Report). Their VHS finds includes the 1987 Miss Junior America Wisconsin pageant, a mysterious tape labeled "bonion sergery," home movies taken at a Canadian hose factory, and a fitness video called Jugglercise.
Saturday, August 31, 1:00 p.m.
The Grey Eagle and Music Hall
Cast your vote for your favorite taco while enjoying live music and flights of tequila or local beer. The contest includes five deliciously different tacos and you get to help choose the best.
Saturday - Sunday, August 31 – September 1, 8:30 a.m. - 5:30 p.m.
Chimney Rock at Chimney Rock State Park
Enjoy the last holiday weekend of summer experiencing what makes Chimney Rock the ideal place to play. Hike on one of the Park's many trails, reach new heights on our 32-foot climbing tower or join Fox Mountain Guides for a real rock climbing experience.
Friday, August 30, 6:00 p.m. - 8:00 p.m.
Battery Park Book Exchange and Champagne Bar
Take part in a classic board game come to life! Guests will work in teams to try to solve a murder mystery while characters lead and mislead them on their quest. Dress in your finest (in 1920's period or current) as you will be hosted in the "mansion!" Tickets are on sale and limited to 40 people.
Friday - Sunday, August 30 – September 1, various times
Flat Rock Playhouse
Batter up! Rounding Third is a comedic play that makes us think seriously about what we teach kids about sports. From behind the baseline, two Little League coaches lead their teams through an entire season with the audience as the team players. The coaches speak directly to the audience about character, competition, and the importance of wearing the right equipment. Throughout the season, they fiercely debate the question: should everyone get a trophy.
Friday - Sunday, August 30 – September 1, 7:30 p.m.
Hazel Robinson Amphitheatre
See a free outdoor performance of Shakespeare's classic play filled with royal drama, jealousy, and repentance. Bring a blanket or chair, a picnic and your favorite drink. Refreshments are also available for purchase at the amphitheatre.