Things to Do in Asheville This Weekend -- August 3-5, 2018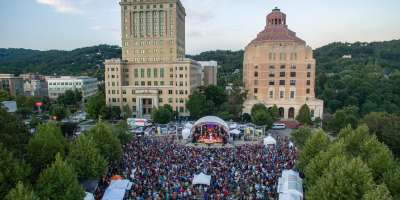 We begin a new month in Asheville with a big lineup of festivals and happenings! This weekend, enjoy some of Asheville's most beloved traditions such as the Mountain Dance and Folk Festival (now in its 91st year) and the Village Art and Craft Fair (now in its 46th year).
Plan your trip to Asheville by utilizing our easy-to-use search to check room availability and rates at Asheville area accommodations. And, you can check events for any date by using our online events calendar search.
Here's a look at what you can enjoy this weekend in Asheville:
Mountain Dance and Folk Festival
Thursday through Saturday, 6:30 p.m. nightly
Mission Health/A-B Tech Conference Center (340 Victoria Rd.), Asheville
See the best of mountain music, dance, and culture at the nation's longest running folk festival! The Mountain Dance and Folk Festival is now in its 91st year. You'll enjoy old time and bluegrass musicians, mountain dancers, cloggers, ballad singers and storytellers. The performers include everyone from the "old-timers" to the newest generation of talent. These are ticketed events with a different show each of the three evenings.
Friday and Saturday, Noon-10 p.m.
Downtown Asheville
Prepare to be entertained! Three stages will feature more than 200 local, regional, and national performers in downtown Asheville at the LEAF Festival. Headliners include the legendary Maceo Parker, who brings the funk and soul, and Hip Hop legend Grandmaster Flash. LEAF Downtown celebrates communities, creativity, diversities and families. So, in addition to great music, check out nearly 100 local culinary and craft arts vendors. Looking for some exercise? you can race to the finish at the 3rd Annual LEAF Art Dash 5K. The race begins Saturday at 9 a.m. On this unique run, art and music accompany you to the finish line!
Village Art and Craft Fair
Saturday and Sunday, 10 a.m. - 7 p.m. (Sat.), Noon-5 p.m. (Sun.)
Biltmore Village, Asheville
Join craft enthusiasts at the area's premier outdoor art and craft fair. There will be more than 100 exhibitors representing a wide range of crafts along the beautiful tree-covered grounds of the Cathedral of All Souls in charming Biltmore Village. It's free to stroll the artists' booths. Nearby to the fair is Biltmore and the River Arts District.
May-October
Various Locations in and around Asheville
Join in the celebration! The Summer of Glass in Asheville is going on now! The Summer of Glass is a six-month celebration of glass art in Western North Carolina and coincides with the Chihuly at Biltmore exhibition. In addition to showcasing the Chihuly glass sculptures, Biltmore hosts glassblowing demonstrations in Antler Hill Village, Fridays, Saturdays and Sundays from 2-5 p.m. (weather permitting).
There are many other events going on throughout the Asheville area from workshops to demonstrations to special celebrations. This Friday is the First Friday Art Walk in Downtown Asheville. Several downtown galleries, including Blue Spiral 1, Momentum, and the Asheville Art Museum, have glass art exhibitions. Lexington Glassworks will host its Glassworks Concert Series with glass blowing demonstrations, live music and craft beer.
Check out our guide to the Summer of Glass and learn how you can take a VIP Weekend Tour (a glass lover's dream!) to experience it all! The next VIP tour is coming up August 17-19. The experience includes a glassblowing demonstration, guided visits to galleries and studios, a chance to meet accomplished glass artists and a hands-on glass experience. The tour also includes both day and night tickets to Chihuly at Biltmore.
Also, don't miss the opportunity to take the Gray Line Hop on/Hop off Summer of Glass Trolley Tour experience.
Sunday (August 5), Noon-10 p.m.
Archetype Brewing (265 Haywood Rd.), Asheville
Celebrate one year of beer at one of Asheville's newest breweries. Archetype Brewing will be doing a big celebration with four new beer releases throughout the day. There will also be a burger pop-up from Farm Burger (including a vegan burger), ice cream from The Hop. And, enjoy music live music from Patrick Dodd, Joshua Singleton and friends. What's more, Brother Wolf Animal Rescue will be there with sweet, adoptable puppies!  
Sunday (August 5), 1-3:30 p.m.
Wedge at Foundation, Asheville
This unique film festival promotes women as leaders in the community and illustrates their potential for positive impact through nine short films by female filmmakers. At the screening, you'll have the chance to participate in a silent auction. And, dozens of local businesses have donated more than $2,500 in prizes. Proceeds from the event go to help the non-profit Girls on the Run of Western North Carolina.
Back-to-School Kids Day
Sunday (August 5), 1-4 p.m.
Asheville Outlets
The event will be a free, fun-filled day for kids and their families featuring an afternoon of entertainment for kids of all ages! Check out the strolling magic, balloon art, face paining, crafts, mega-games and live music. The event is free to attend!
CANCELED - Due to saturated ground around the amphitheater. 
Friday and Saturday (August 3-4), 8-10 p.m.
North Carolina Arboretum, Asheville
After sunset, the North Carolina Arboretum presents a projected light show synchronized to a live music performance of Blue Ridge Orchestra's Symphonic Winds. New this year, the Arboretum will offer reserved premium seating for $30 (includes a free drink). Lawn seating is $18 for adults and $12 for children. Proceeds from this summer concert series will help support the Arboretum's programs, exhibits and facilities year-round.  
Live Music and Performances
These are just a few highlights of the many live music and stage show performances in Asheville this weekend. For a full list of live music events please see our live music calendar. 
Friday
Nora Jane Struthers & The Party Line – Struthers has received acclaim from NPR Music and Rolling Stone Country. New Belgium Brewing, 5:30 p.m.
C.S. Lewis Onstage: The Most Reluctant Convert -- Award-winning actor Max McLean presents his acclaimed portrayal of C.S. Lewis. The play is an exploration of Lewis's dramatic conversion from determined atheist to vibrant Christian apologist. Diana Wortham Theatre, 7 p.m.
Taylor Martin CD Release Celebration – Martin prepares to release his third album, Song Dogs. Limited copies will be available. Isis Restaurant and Music Hall, 9 p.m.
Cowboy Mouth – Band from New Orleans with a unique style of rock & roll gumbo. Salvage Station, 9 p.m.
Saturday
Andalyn – Rock and Americana performer. Pack's Tavern, 9:30 p.m.
Sunday
The Blue Eyed Bettys – Tight harmonies and indie-folk tunes. Isis Restaurant and Music Hall, 5:30 p.m.
Pisgah Sunday Jam – Musical couple Spiro and Nicol Nicolopolous host an open jam. Pisgah Brewing Company, 6:30 p.m.
An Evening with RUNA – Celtic roots music. Isis Restaurant Hall, 7:30 p.m.
Updated February 21, 2019