Things to Do in Asheville This Weekend — August 23-25, 2019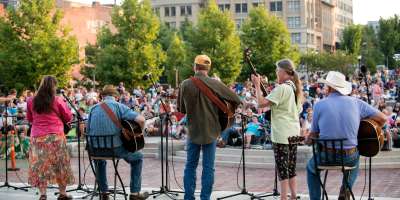 This weekend let your spirit run free in Asheville! Our vibrant mountain town is the perfect place to cool off on a hot August weekend. Enjoy cool mountain breezes from atop the highest peaks in the east, explore the hundreds of waterfalls and secret swimming holes around the Blue Ridge, and slide down a 60-foot all natural water slide. Read our list of top ways to beat the heat this weekend for more details and ideas.
Planning a trip to Asheville is easy. Utilize our easy-to-use search to check room availability and rates at Asheville area accommodations, and be sure to check out the special deals and packages. And, you can check events for any date by using our events calendar search.
We've compiled a list of some of the best events taking place to showcase the breadth of experiences to be found. This weekend enjoy free street festivals, special beer and wine tastings, and a wide variety of live entertainment options planned around town.
Outdoor Festivals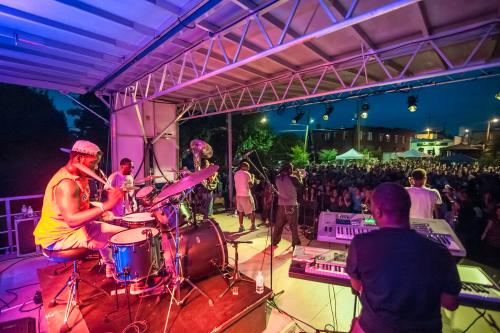 Lively and family-friendly celebrations are planned all weekend long. Check out one of these can't-miss festivals.
Sunday, August 25, 10:00 a.m. – 6:00 p.m.
Pack Square Park – Downtown Asheville
Celebrate everything organic, green and healthy! The family-friendly event includes tasty organic eats, live music, eco-friendly activities for the kids, a parade where kids and parents are invited to come dressed as their favorite good bug (honeybee, ladybug, butterfly or garden fairy!) and parade throughout the park in a joyous celebration of the bounty of the organic garden and the importance of pollinators.
Saturday, August 24, 12:00 p.m. - 10:00 p.m.
Pack Square Park North – Downtown Asheville
It's harvest time in the mountains, and that includes hemp. Head downtown to meet with local growers and get an education on the powerful and versatile uses of hemp. Live music, speakers, games and prizes are planned.
Friday - Sunday, August 23 - 25, various times
Martin Luther King Park
Visit Asheville's oldest African-American neighborhood for an alcohol free, family friendly festival. Food, clothing, and arts vendors will be on site all weekend long, as well as live music and kids activities. Sunday morning includes a worship service and gospel music.
Food and Drink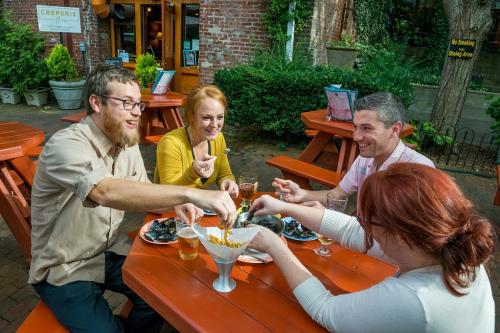 Asheville is well known for it's incredible food and craft beverage scene. From food tours to beer and wine tastings, here are some fun ways to enjoy the best of all there is to eat and drink.
Friday, August 23, 5:00 p.m. - 11:00 p.m.
Catawba Brewing Company – South Slope
Get a taste of Germany in Asheville during the kick off to one of the most awaited seasons for beer fanatics. Enjoy Catawba's release of their Festbeir brew, special games, food specials, and live bluegrass music. You can also get a take home mini-stein while supplies last so get there early!
Saturday, August 24, 2:00 p.m.
Black Mountain
Visit six of Black Mountain's best eateries and discover incredible the sights, tastes, and history of this charming mountain town. Taste food, sip drinks, meet the area's top chefs and learn what inspired them to call this mountain town their home.
Saturday, August 24, 2:00 p.m. – 2:30 p.m.
Rustic Grape Wine Bar
Cool down this weekend with a lovely pairing of fresh sangrias, ciders, and yummy local cheese at this intimate wine bar in downtown Asheville.
Also Check Out:
Zillicoah Session Fest – Saturday, August 24, 12:00 p.m. - 8:00 p.m. – Zillicoah Beer Co.
Free French All Stars Wine Tasting – Saturday, August 24, 2:00 p.m. - 5:00 p.m. – Table Wine
Live Entertainment
Asheville attracts incredibly talented regional and nationally-touring performers to the area all year long. Here's a mix of the top free and paid performances you can enjoy this weekend.
Friday - Saturday, August 23 - 24, 8:00 p.m.
Flat Rock Playhouse
Get ready to experience the unforgettable three-part harmonies and iconic beats that became the soundtrack of a generation. Audiences will do more than just "Stayin' Alive"! Featuring all the hits of the Bee Gees, this Music on the Rock concert will remind everyone that "You Should Be Dancing" and enjoying a lively evening of carefree fun and entertainment.
Sunday, August 25, 7:00 p.m.
Ambrose West
Listen as GRAMMY winning Mike Farris plays his soulful music in West Asheville this weekend. Known first as the frontman for the critic darlings, The Screamin' Cheetah Wheelies, Farris has made a name for himself with his passionately-crafted brand of blue eyed soul which includes elements of blues, roots and gospel.
Blue Yonder and Banjo Nickaru & Western Scooches
Sunday, August 25, 6 p.m.
Isis Music Hall
Enjoy a lively evening of acoustic honky-tonk, classic Country blues, hard-driving Western swing, toe-tapping Rockabilly, and inspirational anthems led by Blue Yonder. You'll see New York City band Banjo Nickaru & Western Scooches, likely the only band today infusing elements of Gullah-Geechee and world rhythms with folk traditions, Americana, New Orleans influences, and 1920s verve.
Friday - Sunday, August 2-4, various times
Hazel Robinson Amphitheatre
Pack a picnic and head over to Asheville's historic Montford neighborhood to see a free performance of Shakespeare's Romeo & Juliet. This classic play is about star-cross lovers caught in the middle of a feud between their families.
Saturday, August 17, 7:00 p.m. -10:00 p.m.
Pack Square Park, Downtown Asheville
This Saturday night, enjoy Shindig on the Green, a free, outdoor, mountain bluegrass music and dance festival. The shindigs take place in the heart of downtown Asheville at Pack Square Park on Saturday nights throughout the summer months (June through early September). In addition to scheduled stage shows, Shindig on the Green features informal performances and jam sessions on the stage and around the park. Bring a lawn chair or a blanket and enjoy. The performances begin at about 7 p.m. or "along about sundown" as folks around here like to say! See our guide to Shindig on the Green for more information.
Also Check Out:
Third Nature Album Release – Friday, August 23, 8:30 p.m. – Isis Restaurant and Music Hall
Noah Proudfoot & the Botanicals with Lowlight, Noble Dust– Saturday, August 24, 9:00 p.m. - Grey Eagle Music Hall and Pub
Asheville Drag Brunch – Sunday, August 25, 11:00 a.m. – Grey Eagle Music Hall and Pub