Things to Do in Asheville This Weekend — August 2-4, 2019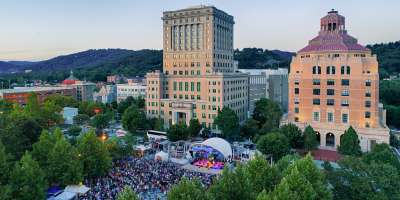 This weekend there is a huge big lineup of special festivals and events happening all across Asheville! Some of Asheville's longest running traditions such as the Mountain Dance and Folk Festival, the Village Art and Craft Fair, and the NC Mineral and Gem Festival all kick off this week.   
Planning a trip to Asheville is easy. Utilize our easy-to-use search to check room availability and rates at Asheville area accommodations, and be sure to check out the special deals and packages. And, you can check events for any date by using our events calendar search.
Ready to make your weekend plans? Here's a list of some of the best events happening around town.
Festivals
Friday – Saturday, August 2 -3, 6:30 p.m. – 9:30 p.m.
UNCA Asheville – Lipinski Hall
Listen to the toe-tapping sounds of Southern Appalachian Music at The Mountain Dance and Folk Festival - the longest running folk festival of its kind. Founded in 1928 by Bascom Lamar Lunsford, this popular music fest celebrates the finest of the spring bands, square dance teams, and ballad singers from across the Blue Ridge Mountains.
Friday – Saturday, August 2-3, 4:30 p.m.
Pack Square Park
Head downtown to enjoy a popular festival that combines the best of music and interactive art into one awesome weekend of family-friendly entertainment. Listen to incredible musicians including Free Planet Radio, Stephen Marley, Arrested Development, Dehli 2 Dublin, and DJ Logic. Learn a new skill like drumming, salsa dancing, or how to cook empanadas. This celebration of global culture also includes roaming artists who will provide popup performances in the streets of downtown.
Friday – Sunday, August 2-4, 10:00 a.m. – 6:00 p.m.
The Spruce Pine Commons Shopping Center
Take a day trip from Asheville to Spruce Pine to shop for beautiful jewelry, gemstones, minerals, beads, crystals and fossils. This annual event features gem, jewelry, and mineral dealers from across the country, and is one of the oldest gem and mineral shows in the United States.
Arts & Craft Shows
Friday – Saturday, August 3-4, 10:00 a.m. – 7:00 p.m.
Cathedral of All Souls – Biltmore Village
Peruse the work of 114 art vendors at this year's Art & Craft Fair in Biltmore Village. You'll find a variety of artistic mediums on display including clay, wood, metal, and fine art. This free event is hosted on the lawn of the Cathedral of All Souls in Biltmore Village.
Friday, August 2, 5:00 p.m. - 8:00 p.m.
Lexington Glassworks
Enjoy live music, local beer and glassblowing during the fourth annual Glassworks Concert Series. This popular gallery event is a part of the Downtown Asheville Arts District First Friday Art Walk, featuring music by Mama Danger and beverages from Highland Brewing Company.
Friday, August 2, 5:00 p.m. –8:00 p.m.
Asheville Gallery of Art
Attend the opening reception of a new show called "Simple Moment." It features the work of Sahar Fakhoury, whose paintings strike a pleasing balance between the classical and the contemporary styles of depicting the human condition. Her work hangs in both public and private collections around the world, and she also teaches oil painting in her studio in Asheville's River Arts District.
Saturday, August 3, 10:00 a.m. - 4:00 p.m.
Folk Art Center – Blue Ridge Parkway
Watch as master woodworkers demonstrate and share their working processes to create beautiful handmade crafts. The Southern Highland Craft Guild will showcase the skill and mastery of wood as an artistic medium at this free event.
Weekend Brunch Performances
Saturday, August 3, 12:00 p.m.
The Grey Eagle Music Hall and Pub
Grab a bite and watch a family friendly drag show, which is open to the public for a suggested donation of $5 - $10, but no one will be turned away. Proceeds from the event supports the LGBTQIA+ youth of Western North Carolina. Doors open at 11:00 a.m.
Sunday, August 4, 1:00 p.m. - 3:00 p.m.
THE BLOCK off biltmore
Relax and enjoy dancing dames and dandies during Burlesque Brunch at THE BLOCK off Biltmore, which features local burlesque and bellydance performances. Try their delicious vegan delicacies (included with your ticket), the finest local vegan craft beers, and, of course, Mimosa specials. It's a Sunday afternoon to delight the senses!
Live Entertainment
Friday - Sunday, August 2-4, various times
Hazel Robinson Amphitheatre
Pack a picnic and head over to Asheville's historic Montford neighborhood to see a free performance of Shakespeare's Romeo & Juliet. This classic play is about star-cross lovers caught in the middle of a feud between their families.
Friday - Sunday, August 2-4, various times
Hendersonville Community Theatre
Go watch a classic come to life on stage in nearby Hendersonville. Inspired by the phenomenon of Elvis Presley and his draft notice into the army, Bye Bye Birdie is a musical comedy send-up of the late 1950s, small-town America, teenagers, and rock & roll. Teen heartthrob Conrad Birdie has been drafted, so he chooses All-American girl Kim MacAfee for a very public farewell kiss.
Also Check Out:
Siamese Dream (The Smashing Pumpkins Tribute Band) with El Scorcho (Weezer Tribute) – Saturday, August 3, 9:00 p.m. – Orange Peel Social Aid and Pleasure Club
Grateful Dead Band and Beer Tour – Sunday, August 4, 3:00 – 6:00 p.m. LaZoom Tours
Imagine… A Community Concert – Sunday, August 4, 7:00 p.m. – Diana Wortham Theatre