Things to Do in Asheville This Weekend -- August 17-19, 2018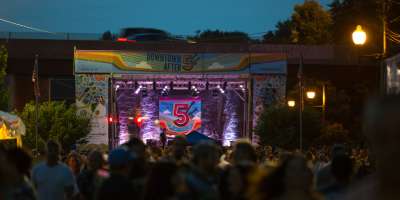 When you visit Asheville, make sure not to limit your adventures to the city center. Get out and explore! You'll find surrounding communities such as Leicester and Fairview offer unique experiences and beautiful vistas.
Leicester hosts its biggest event of the year this weekend, with a self-guided art studio tour. Fairview offers up a barn dance and a country carnival.
While enjoying these events, check out the "hidden gems" in these communities such as great local restaurants and shops.
Plan your trip to the Asheville area by utilizing our easy-to-use search to check room availability and rates at Asheville area accommodations. And, you can check events for any date by using our online events calendar search.
Here's a look at what you can enjoy this weekend in and around Asheville:
Saturday and Sunday (August 18-19), 10 a.m. to 6 p.m.
Leicester
The rolling hills of the beautiful, pastoral community of Leicester have inspired and attracted artists for years. During this 13th annual event, you have the opportunity to meet many of the artists in their studios and purchase one-of-a-kind pieces. There are 25 artists participating in this year's tour. From painters to wood workers, pottery makers to iron smiths, you'll be treated to a wide variety of expert craftmanship. And, since it's a self-guided tour, you're in the driver's seat! Print out the map and create your own experience based on the studios that most interest you. Along the way, try out local restaurants, stop in for a refreshing beverage at Noble Hard Cider or sip wine at Addison Farms Vineyard.   
Saturday (Aug. 18), 1-7 p.m.
Salvage Station (468 Riverside Dr.), Asheville
Float on down to the biggest party of the year on the French Broad River in Asheville! Great live music, local food and beer highlight the RiverFest celebration. During the festival, the wild and entertaining "Anything that Floats Parade" takes on the river. See the crazy and wacky homemade boats that teams have come up with (and see how well they do on the water!). Proceeds from the event go to support RiverLink's work to create a healthy watershed. 
Friday (August 17), 5-9 p.m.
North Lexington Avenue, Asheville
Asheville's downtown outdoor concert series continues its 30th anniversary season with headliner Southern Avenue and opener The Fritz! Southern Avenue is a fiery young Memphis quintet playing soul and blues. The Downtown After 5 stage is set up on Lexington Avenue and the concert is free to attend. While you listen to the music, enjoy local and national brews, and fuel up with food from local food trucks and eateries.  
Saturday (August 18), about 7 p.m.
Pack Square Park, Downtown Asheville
Experience Shindig on the Green, a free, outdoor, mountain bluegrass music and dance festival. The shindigs take place in the heart of downtown Asheville at Pack Square Park on eight Saturday nights throughout the summer months (June through early September). In addition to scheduled stage shows, Shindig on the Green features informal performances and jam sessions on the stage and around the park. Bring a lawn chair or a blanket and enjoy. The performances begin at about 7 p.m. or "along about sundown" as folks around here like to say! See our guide to Shindig on the Green for more information.
Saturday (August 18), 11 a.m. to 4 p.m.
Hickory Nut Gap Farm, Fairview
Hickory Nut Gap Farm in the community of Fairview hosts a good old-fashioned country carnival! Enjoy a variety of sliders and BBQ flights paired with Wicked Weed beers. Dance to the sweet beat of Sydeco Ya Ya's music. And, it wouldn't be a carnival without all kinds of carnival games! Tickets are just $7 and children ages four and under get in free!
August 16-August 26, 11 a.m. to 9 p.m. daily
Bhramari Brewing Company, Asheville
Grab a brew and shop at this 11-day pop up shop featuring some of the area's best in handmade and vintage. Shop organizers have curated goods from more than 75 independent vendors including clothing, jewelry, greeting cards and more.
Friday through Sunday (August 17-19), 10 a.m. to 4 p.m.
Western North Carolina Ag Center, Fletcher
Further satisfy your appetite for all things vintage at this upscale, vintage-inspired indoor/outdoor market featuring original arts, antiques, seasonal plantings and more. Vintage Market Days is a unique opportunity for vendors to display their talents and passions. This market has been featured in Country Living Magazine as "One of the top flea markets and barn sales not to miss."
Sunday (August 19), 9 a.m. to 3 p.m.
Asheville Botanical Gardens
Stroll the beautiful Botanical Gardens of Asheville, located just a couple miles from downtown Asheville near the campus of the University of North Carolina at Asheville. Garden Manager, Jay Kranyik, leads this naturalist walk during which you'll learn about plants, insects, birds and weather. Past guided walks have included encounters with hawks and hummingbirds.
Live Music and Entertainment
These are just a few highlights of the many live music and stage show performances in Asheville this weekend. For a full list of live music events please see our live music calendar. 
Friday
Barn Dance with Bayou Diesel – Band performs powerful Cajun, Zydeco and Mardi Gras music. Hickory Nut Gap Farm (Fairview), 6-9 p.m.
Music on the Lawn with Tony Eltora Trio – This free concert features a band whose sound has been described as "Paul Simon hanging out with John Scofield playing Muddy Waters songs." Isis Restaurant and Music Hall, 6:30 p.m.
Menopause the Musical – A groundbreaking celebration of women who are on the brink of, in the middle of, or have survived "The Change." Diana Wortham Theatre, 8 p.m.
Saturday
The Asheville Opry – This is part one of a three-part monthly series of country and honky tonk classics. The Asheville Masonic Temple, 6:30 p.m.
ABSfest Speakeasy Allstars Burlesque – Quality burlesque and circus arts performed to live upbeat mountain swing music. The Orange Peel, 8 p.m.
Motown and Disco Dance Party with Paula and Peggy – Come dressed in your 70's best for this celebration! Isis Restaurant and Music Hall, 9 p.m.