Things to Do in Asheville This Weekend — August 16-18, 2019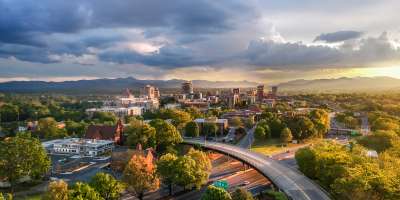 Enjoy the best of everything Asheville has to offer this weekend. Outdoor adventures, lively street festivals, and art tours are on tap for the weekend, and there's fantastic live entertainment happening in Asheville's best venues and music halls.
Planning a trip to Asheville is easy. Utilize our easy-to-use search to check room availability and rates at Asheville area accommodations, and be sure to check out the special deals and packages. And, you can check events for any date by using our events calendar search.
Ready to make your weekend plans? Here's a list of some of the best events happening around town.
Outdoor Exploration
Friday, August 16, 10:00 a.m. – 12:00 p.m.
Blue Ridge Parkway – Milepost 377.4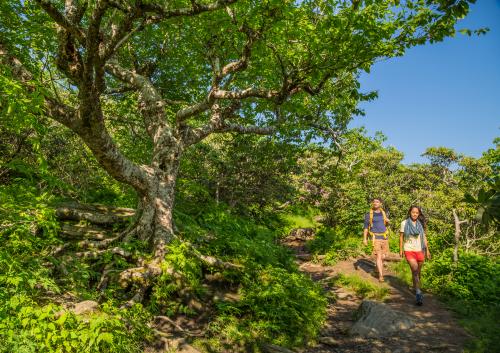 Join Parkway rangers for an easy to moderate, 2.5-mile round-trip hike along the Mountains-to-Sea Trail from Craven Gap. Hike among the vibrant and varied wildflowers of the Blue Ridge Mountains. We'll see what's in bloom, learn how certain wildflowers got their names, and find out some noteworthy flora and fauna facts. Meet at the Craven Gap parking lot at Milepost 377.4. Bring water, wear good walking shoes, and be prepared for changeable weather.
Friday, August 16, 7:00 p.m. – 9:30 p.m.
Blue Ridge Parkway – Craggy Gardens Picnic Area
Take part in a guided, meditative sunset hike, treading silently through the woods and towards a beautiful mountain bald. As the full moon rises in the night sky, a gentle lunar yoga practice will commence to practice the intention of letting go what no longer serves you. Sip hot tea after the practice and hike down with new friends under the light of the full moon.
Saturday, August 17, 10:00 a.m. – 1:00 p.m.
Barnardsville
Meet with a local representative of the Buncombe County Recreation Services for a guided hike to Douglas Falls. Start by driving through the scenic Pisgah National Forest to the meet up location. This 2.5-mile out-and-back hike has some obstacles, is hilly, and the terrain is moderately rough. Make sure to bring sensible walking shoes and water.
Live Entertainment
Friday, August 16, 5:00 p.m. - 9:00 p.m.
North Lexington Avenue – Downtown Asheville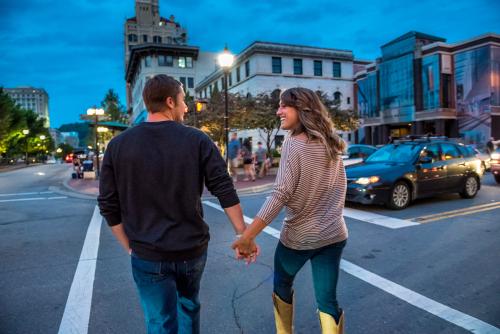 Begin your weekend adventure in Asheville with the popular Downtown After 5 street festival. Live music from Emma's Lounge and The Artisinals will be on the main stage. Food, beer, and other vendors will be on site as well. This event is free to attend and always a fun time.
Saturday, August 17, 7:00 p.m. -10:00 p.m.
Pack Square Park, Downtown Asheville
This Saturday night, enjoy Shindig on the Green, a free, outdoor, mountain bluegrass music and dance festival. The shindigs take place in the heart of downtown Asheville at Pack Square Park on Saturday nights throughout the summer months (June through early September). In addition to scheduled stage shows, Shindig on the Green features informal performances and jam sessions on the stage and around the park. Bring a lawn chair or a blanket and enjoy. The performances begin at about 7 p.m. or "along about sundown" as folks around here like to say! See our guide to Shindig on the Green for more information.
Saturday, August 17, 7:30 p.m. – 9:30 p.m.
Whittington-Pfohl Auditorium
Head out to the Brevard Music Center to watch Béla Fleck, a 15-time GRAMMY winner perform during the Blue Ridge Banjo Camp. This concert features an all-star lineup of banjo virtuosos including Tony Trischka, Kristin Scott Benson, Alan Munde, and Noam Pikelny.
Friday, August 16, 9:00 p.m. – 11:00 p.m.
LaZoom Room
Get tickets now to see Ali Clayton perform standup in downtown Asheville this weekend. Ali is a southern, former pageant kid, who grew up to be a gay, cowboy boot lovin', comedian and actor. Catch her here before she appears in this year's STANDUP NBC showcase.
Also Check Out:
Brittany Howard of Alabama Shakes – Saturday & Sunday, August 17 - 18, 8:00 p.m. – Orange Peel Social Aid and Pleasure Club
Reasonably Priced Babies – Local improv troupe – Friday, August 16, 7:30 p.m. Black Mountain Center for the Arts
All Shook Up – Elvis Tribute Play– Friday - Sunday, August 16 - 18, various times – Flat Rock Playhouse
Art Studio Tours
Saturday, August 17, 11:00 a.m. - 4:00 p.m.
Grovewood Village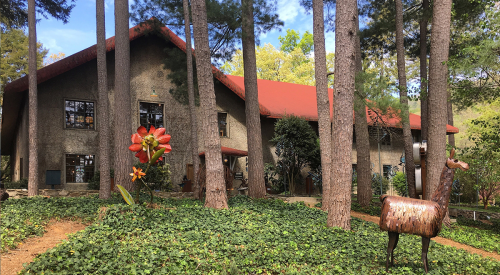 The resident artists at Grovewood Village will open up their studios to the public, allowing visitors to gain insight into their creative process and view their most recent works. Meet makers who work in a variety of media, and browse original works of art ranging from jewelry to pottery to sculpture.
Saturday - Sunday, August 17 - 18, 10:00 a.m. – 6:00 p.m.
Addison Farms Vineyard
Join the folks at Addison Farms Vineyard for the 14th Annual Come to Leicester Studio Tour! 29 local and visiting artists will be selling and showing their work in their studios, at the local vineyard, and at the Community Center. This free, self-guided event will have visitors getting a behind the scenes look at how the art is crafted. Purchase your own handmade treasure to take home, and choose from a variety of mediums including clay, fiber, glass, jewelry, metal, mixed media, natural materials, painting, and wood.