Things to Do in Asheville This Weekend -- August 11-13, 2017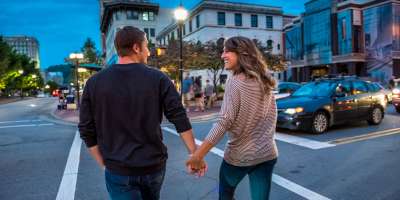 Asheville is a hub for great entertainment and music, attracting artists from all over the world. This weekend, some of America's best comedians are traveling to Asheville to be a part of a major comedy festival. Meanwhile, the nearby towns of Black Mountain and Lake Lure are gearing up for big celebrations -- among their biggest of the year. These are just some of the highlights of what there is to enjoy in the Asheville area this weekend! Read below to learn more!
When you take photos, don't forget to tag us with #VisitAsheville and we may share your picture on Instagram, Facebook and Twitter!
Wednesday through Saturday (Aug. 9-12); Showcases begin at 8 p.m.
Highland Brewing Co. and Diana Wortham Theatre, Asheville
The Southeast's largest comedy festival celebrates 11 years in Asheville by featuring stand up comedians from across the nation! The four-day Asheville Comedy Festival will showcase 50 of the funniest comics. Comedians featured at the festival in past years have gone on to star in television and movie roles. Visit the Asheville Comedy Festival web site to get your tickets before they are gone!
Saturday (Aug. 12) - 9-8 p.m.; Sunday (Aug. 13) - 9-6 p.m.
Downtown Black Mountain, N.C.
America's prettiest small town, Black Mountain, goes all out for this family-friendly and pet-friendly street fair! The festival features great food, music and dancing. Stroll the booths of nearly 200 arts & crafts and food vendors. Add to that the honey and bee demonstrations as well as tasting the gourmet sourwood honey, from which the Sourwood Festival gets its name. The festival kicks off with the Sourwood Idol Contest, an amateur singing competition with cash prizes! Admission is free. The festival is a no alcohol environment. 
Art is everywhere in Asheville thanks to talented artists and muralists who have transformed public spaces into masterpieces. This street art makes a drive or walk through Asheville a visual delight. Murals line the streets and alleyways of downtown and the River Arts District. One of the newest places to see cool graffiti and street art is at the new Foundation building that is now home to 12 Bones BBQ and The Wedge brewery. Pictured here is the nearby "Good Vibes" mural by Ian Wilkinson on a water tower -- a popular spot for locals and visitors. As you admire the creativity of the local artistic community, you can also get some great pictures that'll be sure to help you grand slam your Instagram!
Friday through Sunday (Aug. 11-13)
Lake Lure, N.C.
From the scenic beauty to the challenging courses, from delicious food to welcoming locals, there's a lot to experience at Western North Carolina's largest three-day sports festival! The Lake Lure Olympiad has been named one the "10 Great Destination Triathlons in the United States." While there will be some serious competition, there are many activities for beginners and families. Many of the events are designed for kids ages 4-14, giving them a chance to earn a medal, too! The grand finale is the Race to Rock, a challenging 5k run or 25-mile bike race to the base of Chimney Rock. Don't miss this opportunity as it's the only time during the year that you can run or bike to Chimney Rock!
For a calendar of live local music shows, please visit our music page!
Highlights this weekend include, Linda Ronstadt's younger brother, Michael J., and his sons leading the Ronstadt Brothers on stage at Isis Restaurant and Music Hall on Friday at 9 p.m. The band represents five generations of the family music traditions with a fresh take on Southwestern and Mexican songs.
Also Friday night at 9 p.m., the Orange Peel hosts The Ultimate Stevie Wonder Experience. Stevie Wonder tribute band, Natural Wonder, rolls into town with a full band. Gabriel Bello, a #1 Billboard-ranked vocalist, producer and multi-instrumentalist, channels the energy and artistry that has made Stevie Wonder an icon across decades and genres.
Saturday night brings another installment of Shindig on the Green, a free outdoor mountain music concert. Locals and visitors alike come together in downtown "along about sundown" (or 7 p.m. for those wearing a watch) to experience the beautiful music and dance traditions of Southern Appalachia. Bluegrass, old-time, and folk musicians play on the main stage. But magical moments happen all over Pack Square Park, as musicians host impromptu jam sessions.
Photo credits: Top photo by Emily Chaplin. Sourwood Festival photo by Jason Tarr. Water tower photo by Jason Tarr/Mural by Ian Wilkinson. Comedy festival photo by Craig Burgwardt (Courtesy Asheville Comedy Festival).