Things to Do in Asheville This Weekend -- April 5-7, 2019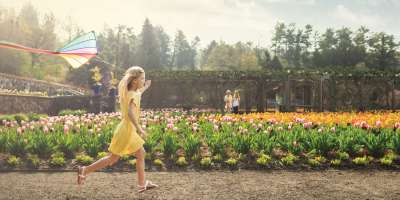 In Asheville this weekend, make plans to attend a citywide event will bring together musicians, film makers, writers, and social activists for a series of thought-provoking conversations. Connect Beyond Festival is the perfect event for fans of radio shows like World Cafe, This American Life, and the speaker series TED Talks. Considered to be "Asheville's version of SXSW" (Ashvegas), the festival includes cutting edge performances, films, inspiring speakers, and panels.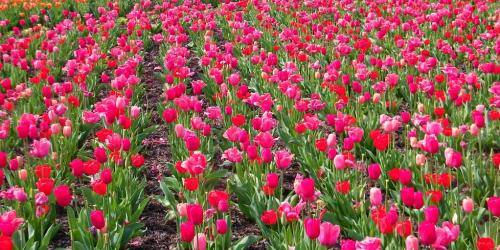 Spring is blooming across the Blue Ridge Mountains and now is the perfect time to catch a first glimpse of wildflowers during their seasonal show. Here's a list of flowers currently in bloom, and where to find them. Biltmore Blooms, one of Asheville's longest running springtime traditions, begins this week. Thousands of beautiful tulips are on display across the estate. The estate gardens, which were designed by the famous landscape architect Frederick Law Olmsted, have come to life with immense floral displays. Flowers familiar to western North Carolina such as rhododendron, viburnum and japonica are integrated into exhibits inside the Biltmore House, reflecting what might have been cut and used by the staff during the Vanderbilt era.
If you're planning a trip, then be sure to check out our easy-to-use search feature to find out room availability and rates at Asheville area accommodations, and check events for any date by using our online events calendar search.
Here's a look at what you can enjoy this weekend in and around Asheville.
Top Events This Weekend in Asheville, NC - - April 5 - 7, 2019

Edwin McCain
Friday, April 5, 8:00 p.m.
US Cellular Center
Called the "great American romantic" by the New York Times, Edwin McCain has built an enviable career over the past 20 years by balancing his massive pop success with the year-round touring schedule of a tireless troubadour. His hit songs, authentic spirit and surprisingly affable sense of humor keep fans coming back time and time again for nights that feel more like parties with old friends than rock concerts.
Five Letter Word
Friday, April 5, 7:00 p.m.
Isis Restaurant and Music Hall
Five Letter Word will be making their Asheville debut, playing songs from their brand new, Folk DJ Chart-topping record 'Siren.' Expect harmony-driven folk and Americana direct from Portland, OR.
Karen Keil Brown
Friday, April 5, 5:00 p.m. - 8:00 p.m.
Asheville Gallery of Art
Asheville Gallery of Art presents its April 2019 Show, "A Visual Contemplation: Land, Sea and Sky," a dual presentation of works by Karen Keil Brown and Gayle Havens. Their complementary styles showcase a breadth of vision and technique in landscape painting.
7th Annual Face Jug Show Opening Reception
Friday, April 5, 5:00 p.m. - 8:00 p.m.
American Folk Art and Framing
Face jugs have been used since the early 1800s to hold moonshine. The scary and ominous faces, featuring broken porcelain plates as jagged teeth and sometimes adorned with snakes, were meant to frighten children and thus keep them from drinking the moonshine. The potters whose work will be featured in American Folk's Annual Face Jug Show are 'legacy' potters, folks whose families have been making pots for as many as seven generations.
Alice in Wonderland
Friday - Saturday, April 5-6, 7:30 p.m. & Sunday, April 7, 2:30 p.m.
Asheville Community Theatre
A journey into a world of complete illusion! All the familiar characters from Lewis Carroll's famed Victorian fairy tale are here: Alice, The Mad Hatter, The White Rabbit, Tweedledee and Tweedledum, The Red Queen, The Cheshire Cat … and many more! Produced and reviewed on Broadway, this is considered the most successful dramatic version of Alice in Wonderland and Through the Looking Glass.
Bounce Into Spring Family Festival
Saturday, April 6, 9:00 a.m. –12:00 p.m.
Charles D. Owen Park
There's nothing quite like shaking off winter's cabin fever and welcoming the warmer days of spring. Celebrate the new season's arrival around the ponds at Charles D. Owen Park in Swannanoa. This FREE festival includes nature-inspired arts and crafts project and play stations.
Glass & Metal Day
Saturday, April 6, 10:00 a.m. – 4:00 p.m.
Folk Art Center
The Southern Highland Craft Guild is excited to showcase the elements of metal and glass. Master craftspeople will demonstrate blacksmithing, glass blowing, piercing and soldering metals, knife making, bezeling, repoussé, copper etching, assembling stained glass, forging and many other artistic processes.
Naturalist Niche: Spring Migration Hike
Saturday, April 6, 9:30 a.m. – 12:30 p.m.
Chimney Rock at Chimney Rock State Park
Spring is for the birds! Dozens of species migrate through our area every spring as they head north. Join a park guide on a hike to seek out many different species making their way home. Don't forget your binoculars. This hike is considered easy- to- moderate. Please leave your pets at home for this tour.
Sing Me Back Home: The Songs of Merle Haggard
Saturday, April 6, 8:00 p.m.
The Grey Eagle Music Hall and Pub
The Grey Eagle host's their annual birthday tribute to Merle Haggard! This year's list of performers includes: Amanda Anne Platt, Brody Hunt & The Handfulls, Cyndi Lou & The Want To, Hearts Gone South, Kari Sickenberger, Liliana Hudgens, Old Chevrolet Set, Vaden Landers and more! Proceeds from this event to benefit The Black Butte Center For Railroad Culture.
Asheville Orchid Festival
Saturday - Sunday, April 6 - 7, 9:00 a.m. – 5:00 p.m.
North Carolina Arboretum
The Western North Carolina Orchid Society will host its 21st annual Asheville Orchid Festival at The North Carolina Arboretum. This year's event, entitled "An Orchid Expedition," will feature educational programs, lectures and orchid exhibits from world-class orchid growers and breeders, as well as regional orchid societies. Orchids will also be available for purchase.
Uncommon Market Asheville
Sunday, April 7, 9:30 a.m. – 4:00 p.m.
Asheville Outlets
On the hunt for the old, the bold, the creative, and the unexpected? Uncommon Market Asheville brings together quality antiques, vintage decor, art, jewelry, home furnishings and more! Food trucks and adult beverages will be available. Admission $2 per person; children and friendly dogs are free. This is a rain or shine event.
Third photo from top: Orb Jug created by Michael Ball