Things to Do in Asheville This Weekend -- April 26-28, 2019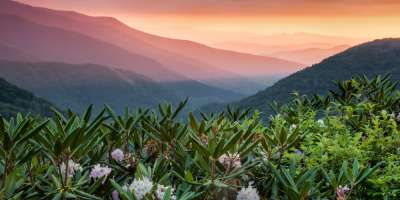 Spring is serving up the best weather we've seen this year, and with great weather comes even greater opportunities to get outside and enjoy a wide selection of events offered throughout Asheville. This weekend, explore the outdoors, attend a festival celebrating food and wine, meet local artists, and learn what life was like for early pioneers in the Appalachian Mountains. Whether you're traveling with family, friends, or solo, you're sure to find an experience everyone will enjoy.
Plan your spring trip to Asheville by utilizing our easy-to-use search to check room availability and rates at Asheville area accommodations. And, you can check events for any date by using our events calendar search.
Here's a look at what you can enjoy in Asheville this weekend.
Taste Your Way Across Asheville
At the heart of Asheville's buzz-worthy food scene are hundreds of regional farms, creameries, vineyards, and apiaries that produce the ingredients our award-winning chefs serve up every day. This weekend, sample the region's finest flavors at one of these events celebrating local food culture.
Sunday, April 28, 12-5 p.m.
Highland Brewing Company
Throughout the mountains surrounding the Asheville area you'll discover some of the best cheese-makers in the South! The Carolina Mountain Cheese Fest gives you the opportunity to meet the cheesemakers, sample and purchase cheese/dairy products and learn about the process from the artisans. You can also get up close with the dairy animals responsible for the many varieties of delicious cheese. Tickets are available! Purchase your tickets and learn more about the schedule of events: https://mountaincheesefest.com/.  
Tickets support the WNC Cheese Trail, which "allows you to connect directly with cheesemakers, see where your favorite cheeses are crafted, and buy straight from the producers." 
Strawberry Day at the WNC Farmers Market
Friday, April 26, 12:00 p.m. – 1:00 p.m.
WNC Farmers Market
Celebrate the sweetness of strawberries grown in the Blue Ridge Mountains. The WNC Farmer's Market will highlight these and a variety of other farm fresh produce, canned goods, honey, nursery items, and hand crafted goods. The market, which overlooks the Blue Ridge Mountains and Biltmore, is open every day.
Hillman Beer Two-year Anniversary Party
Saturday, April 27, 12:00 p.m. – 11:00 p.m.
Hillman Beer
Hillman Beer, located on the edge of Biltmore Village, invites you to celebrate their anniversary. The event includes food, live music, anniversary t-shirts, and the release of a new brew, the 2 Down Doppel Bock.
Find Your Spirit NC
Saturday, April 27, 12:00 p.m. – 6:00 p.m.
Crowne Plaza Expo Center
Sample finely crafted spirits from 30 of North Carolina's top distilleries and enjoy a delicious and eclectic selection from some of Asheville's premium restaurants. Local music, interactive demos, and engaging entertainment will be featured throughout the event space, creating a full-sensory experience for guests and distillers alike.
Stop to Smell the Flowers
Throughout spring, the forests of the Southern Appalachian Mountains – some of the oldest mountains in the world - are covered with flowering lady slippers, painted trillium, japonicas, jack-in-the-pulpits, mountain laurel, evening primrose, and hundreds of other native species. Use our wildflower bloom schedule to identify these and other wildflowers currently in bloom.
Find eye-catching colors and nearly every U.S. azalea species on display at the North Carolina Arboretum's National Native Azalea Collection. Located alongside the Bent Creek Experimental Forest, the Arboretum offers 65 acres of cultivated gardens to explore in one of the most botanically diverse settings in the country.
Spring at Biltmore, the 250-room residence of George W. Vanderbilt, showcases a vibrant display of flowering trees, shrubs, and flowers throughout multiple gardens designed by famed landscape architect Frederick Law Olmsted. Biltmore Blooms features an impressive array of blooming azaleas, dogwoods, and redbuds located throughout 2.5 miles of manicured gardens.
Bullington Gardens Spring Plant Sale
Friday, April 26 - Saturday, April 27, 9:00 a.m. – 4:00 p.m.
Bullington Gardens
Take the beauty of the mountain's spring blooms home by shopping a huge spring plant sale. Various trees, shrubs & hard to find annuals will be available. Also find unique perennials, natives, and herbs.
Discover Weaverville's Arts and Culture Scene
Located north of Asheville is Weaverville, a small-town filled with interesting shops and popular eateries. Explore this artist haven at one of the many events planned this weekend.
Weaverville Art Safari
Friday, April 26 - Sunday, April 28, 10:00 a.m. – 5:00 p.m.
Downtown Weaverville and Surrounding Areas
Tour the working studios of Weaverville artists and see first-hand how their craft is made. This self-guided tour features artists who specialize in handmade pottery, glass, photography, sculpture, jewelry, furniture, painting, drawing, fiber art, and wood art. The event is free to attend.
The Weave Pop-Up Market
Saturday, April 27, 10:00 a.m. – 6:00 p.m.
Creperie and Café of Weaverville
Visit the Creperie in downtown Weaverville and enjoy an artist market featuring 15 unique artists local to Weaverville and the surrounding area. Blown glass art, handcrafted jewelry, acrylic art, gems, and crystals are among the treasures available for purchase.
Patch-a-Palooza
Saturday, April 27, 1:00 p.m. – 4:00 p.m.
Zebulon Vance Birthplace State Historic Site
Learn about life on a mountain farmstead at this hands-on program! Patch-a-Palooza combines craft activities, demonstrations, and games into one history-filled afternoon. Registered children can visit each station to earn a Vance Birthplace patch while learning historic skills and knowledge along the way.
Catch a Live Show
Live performances from the area's top acts will light up Asheville stages this weekend. Here are some best bets.
On the Razzle
Friday, April 26, - Saturday, April 27, 7:30 p.m. & Sunday, April 28, 2:30 p.m.
Kittredge Theatre – Warren Wilson College
Shopkeeper Weinberl longs to break free of the monotony of everyday life, so when his boss, Herr Zangler, takes a rare day off, Weinberl and his companion, Christopher, ride to Vienna for an adventure like no other! Comical hijinks and romantic ensues in this hilarious farce, based on the same German story that was adapted to create Hello, Dolly!
Also check out:
Reasonably Priced Babies  - Saturday, April 27, 7:00 p.m. – 10:00 p.m. – Ambrose West – Local improv comedy troupe
Queen Bee and the Honeylovers "Asheville" album release party  - Saturday, April 27, 8:30 p.m. – Isis Restaurant and Music Hall – Asheville based swing band who write original jazz filled with tidbits of local history.
The Music of Prince for Kids  - Sunday, April 28, 12:30 p.m – The Grey Eagle Music Hall and Pub – Part of the Rock and Roll Playhouse concert series designed to introduce children to iconic musicians in rock history.