Things to Do in Asheville This Weekend -- April 20-22, 2018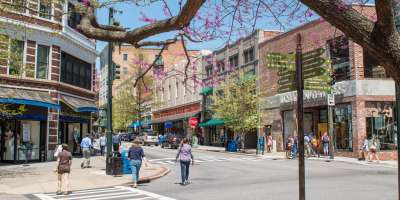 Asheville is a place where you'll always find new experiences. This weekend is no exception!
Be a part of a new festival, the Connect: Beyond the Page Festival. Or, experience the new riverside venue at Sierra Nevada, one of Asheville's top breweries.
This is also a weekend when you'll be able to celebrate Asheville area staples such as Pisgah Brewing Company, now in its 13th year in nearby Black Mountain.
This busy weekend is just the beginning of a packed schedule of spring events. Plan your spring trip to Asheville by utilizing our easy-to-use search to check room availability and rates at Asheville area accommodations. And, you can check events for any date by using our events calendar search. 
Here's a look at what you can enjoy this weekend in Asheville:
Friday through Sunday (April 20-22)
Various Locations, Asheville
Be a part of a new festival bringing together musicians, writers, filmmakers, media personalities and activists. At the Connect: Beyond the Page Festival creatives will showcase the many ways in which art inspires. The 3-day event boasts a lineup of performances, speakers and panels. Among the people you'll see at the festival are Bob Boilen (host of NPR's All Songs Considered), Lydia Diamond (award-winning playwright) and Ben Sollee (cellist and activist). On Friday night, the festival features a live interview series and performance hosted by Boilen. Saturday evening will be capped by multiple live music performances highlighting songs born from calls to action for social justice. Visit the festival's web site for ticket information.
Saturday (April 21), 5:30 p.m.
Pisgah Brewing Company, Black Mountain
Rock out during this celebration marking Pisgah Brewing Company's 13th anniversary. The music party will feature bands Deer Tick, John Moreland, The National Reserve and Yellow Feather. Pisgah Brewing Company is located in beautiful nearby Black Mountain. Pisgah Brewing specializes in craft brews made with 100 percent whole leaf hops and all-organic grains and malts. Their flagship beer, the Pisgah Pale Ale, is a staple of the local beer scene.
Saturday (April 21), 11 a.m. – 9 p.m.
Sierra Nevada Brewing Company, Mills River
There's no need to wait until October to get your 'fest on! Sierra Nevada hosts its third annual Springtoberfest featuring traditional Oom-Pah music with a twist, German snacks and plenty of steins to sample. As part of the celebration, Sierra Nevada will be debuting its new riverside venue, Lower Park. Admission is free.
Strawberry Day at the WNC Farmer's Market
Friday (April 20), 11 a.m. – 1 p.m.
WNC Farmer's Market, Asheville
A sure sign that spring is here. Head to the WNC Farmer's Market for farm fresh strawberries and a sample of home-churned strawberry ice cream from the Deli! The WNC Farmer's Market is relatively close to downtown Asheville and has great views of the mountains. It's open year round, seven days a week. Admission is always free.
Saturday (April 21), 10 a.m. – 2 p.m.
Salvage Station, Asheville
Celebrate Earth Day with the family at Salvage Station on the French Broad River. RiverLink hosts this fourth annual Earth Day Kids Festival featuring games, arts & crafts, performances and environmental education. Educational opportunities range from recycling to watersheds to farmsteading. The event is free to attend.
Saturday (April 21), 7:30-9 p.m.
Black Mountain Center for the Arts, Black Mountain
Nationally-celebrated storyteller Connie Regan-Blake presents an enchanting evening of storytelling. You'll enjoy a variety of stories from her "Taking the Stage" workshop participants. The past three performances have been sell outs, so it'd be best to purchase your tickets in advance.
Bestselling authors book signings and presentations
New York Times bestselling author Meg Wolitzer will be at Malaprop's Bookstore Friday (April 20) night from 6-8 p.m. She is known for her book "The Interestings" and has just released her newest novel, "The Female Persuasion." The new novel is an "electric, multilayered novel about ambition, power, friendship and mentorship." She will sign copies of the book at the event. There will be line preference to customers who purchase the book at Malaprops.
And, on Saturday night at 7 p.m., the award-winning author who penned the novel Cold Mountain, Charles Frazier, presents on his powerful new novel, "Varina." This is a free event at Lipinsky Auditorium on the UNC Asheville campus. The new novel brings to life the chaos and devastation of the Civil War through the story of Varina Howell, Jefferson Davis's wife and widow. At this event Frazier will have a conversation with author Wiley Cash and then will sign books after the program. There will be line preference to customers who purchase the book at Malaprops. Frazier will also be a part of the Connect: Beyond the Page Festival this weekend during a celebration the 15th anniversary of the film, Cold Mountain. 
Live Music
What a weekend for live music in Asheville! There are too many great shows to list them all here. See our live music calendar for a full list. Here are a few highlights:
Friday
The Grass is Dead – a force of Bluegrass and Grateful Dead music. 9 p.m., Isis Restaurant and Music Hall.
Ghost Light – five-piece band preparing to release its debut record. 10 p.m., Asheville Music Hall.
Toubab Krewe – band from Asheville with global sound inspired, in part, by African music. 9 p.m., Ellington Underground.
Saturday
Rockin' Road to Dublin – a new sensation combining the art of an Irish dance show, the power of a rock concert and the finish of a Broadway theatrical production. 7 p.m., Thomas Wolfe Auditorium.  
Gypsy Guitars – Asheville band with upbeat snappy sounds. 7 p.m., Enter the Conundrum.
The String Cheese Incident – Independent band with 11 albums and 7 DVDs during 23-year career. 8 p.m., ExploreAsheville.com Arena.
Sunday