Things to Do in Asheville This Weekend -- April 13-15, 2018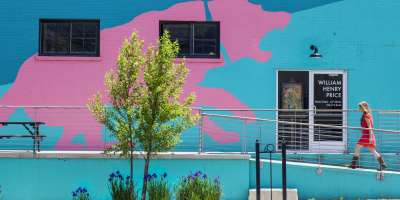 The transition to spring continues in Asheville as more and more trees and flowers are budding out. A celebration of flowers at Biltmore, known as Biltmore Blooms, is among the best places to see the beauty of the season.
This weekend in Asheville, delight in the work of nearly 200 artists in the River Arts District. Enjoy one of several big celebrations around town for kids and their families. Or, take some time to unwind with beer and wine events. As always, you'll also find a robust lineup of live music bringing electric energy to Asheville's stages.
Plan your spring trip to Asheville by utilizing our easy-to-use search to check room availability and rates at Asheville area accommodations. And, you can check events for any date by using our events calendar search. 
Here's a look at what you can enjoy this weekend in Asheville:
Saturday (April 14), 11 a.m. - 5 p.m.
River Arts District
See artists at work in their studios and galleries in Asheville's River Arts District during Second Saturday, a monthly arts celebration with hands on classes, demonstrations and openings. April's event includes an event at Odyssey Coop Gallery with refreshments, wine and live music. Demonstrations by artists include Mark Bettis with cold wax and oil, Elise Hodara Okrend with pastels and Joyce Thornburg with collage and mixed media. See the River Arts District web site for a full list of demonstrations and happenings.    
Friday (April 13), 5:30-7 p.m.
Asheville Museum of Science (43 Patton Ave.)
Bring your children to the Asheville Museum of Science for a night of fun courtesy of 828 Family Pizzeria! Night at the Museum features pizza, a movie, fun games and activities. Children will also have the opportunity to enjoy the museum's interactive exhibits. Night at the Museum takes place each month on the second Friday.
Saturday (April 14), 1-4 p.m.
Asheville Outlets (800 Brevard Rd.)
Celebrate with a free, fun-filled day for kids and their families featuring activities and live music performances at the Asheville Outlets. Among those performing are Rock Academy, Buskers, Lady of Sky Barbershop Chorus, The Buskits, Spintastic Sounds and the Enka High School Band. The event also features the Summer Camp Expo, Truck City AVL, Field & Stream Casting Event, crafts, face painting and balloon art.
Various dates and times
Asheville Community Theatre (35 East Walnut St.)
It's a busy weekend on the stages of the Asheville Community Theatre. The powerful play, The Diary of Anne Frank, opens Thursday night. A young Jewish girl captures the fear, hope and grief she experiences during the reign of Hitler as she shows the astonishing resilience of the human spirit. Shows run April 13-29, Fridays and Saturdays at 7:30 p.m. and Sundays at 2:30 p.m.
On Saturday (April 14), the Red Herring Puppets present Aesop's Fables. This new, rhymed version with original music features large table top puppets.
Vineyard Barrel Tasting
Saturday (April 14), 11 a.m.- 2 p.m.
Addison Farms Vineyard (4005 New Leicester Highway in Leicester)
Join Addison Farms Vineyard Owner and winemaker, Jeff Frisbee, for a private tour of the vineyard and taste several wine releases. Some of the tastings will come right from the barrel! You must purchase a ticket for the tour, which will depart from the Addison Farms Tasting room at 11 a.m. The ticket includes a private tour, tastings of yet-to-be-released wines, a complimentary wine glass and lunch. Addison Farms Vineyard is located in the rolling hills of the nearby community of Leicester, about 25 minutes from downtown Asheville.
Join in this month-long celebration of craft beer! Many of the Asheville area's 38 breweries will host special tastings and events throughout April as part of North Carolina Beer Month. Among the releases this weekend is Archetype Brewing's Devil's Nest, a mixed culture Belgian Tripel. The beer is on tap in the taproom beginning on Saturday.
Join a world champion fiddler Mari Black for an extravaganza of dance-inspired music from around the globe! Black performs at Isis Music Hall on Friday (April 13) at 7 p.m.
Also on Friday night at The Orange Peel, Judah & the Lion brings its unique sound to the stage. Music influences include fuzz bass, hip-hop percussion, distorted banjo riffs and super-sized melodies all stirred into the same mixing pot. Show begins at 8 p.m.
Three of the most distinguished artists in Irish music take to the stage as The Alt performs at the Diana Wortham Theatre on Saturday (April 14) at 8 p.m. The Alt is made up of favorite Asheville guitarist John Doyle, singer/guitarist/bouzouki player Eamon O'Leary and singer/bodhran and bones player Cathy Jordan of Dervish.
The Asheville Symphony performs Saturday (April 14) at 8 p.m. Hear the sounds of John Adams, Manuel de Fallas and Jan Sibelius. The performance features Joyce Yang on piano.
Dance the night away Friday night (April 13) at Isis Music Hall. Vintage Vinyl plays classic rock hits from the 60's and 70s with an emphasis on high energy performance. Show starts at 9 p.m.
Comedian Joe Zimmerman, a former Asheville resident, brings the laughs to The Grey Eagle on Friday night (April 13) at 7:30 p.m. Zimmerman recently appeared on The Tonight Show with Jimmy Fallon.
And, experience magic like never before with 23-year-old magician Haydini of Charlotte, N.C. Haydini specializes in the art of illusion. He performs Friday (April 13) at 8 p.m.