Things to Do in Asheville This Thanksgiving Weekend — November 28-December 1, 2019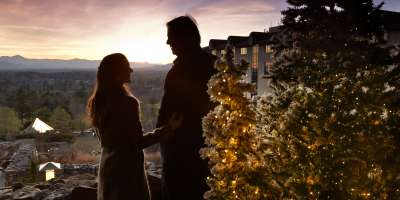 Thanksgiving is here, and there's a lot to be thankful for in Asheville this year with many great seasonal celebrations already underway and many others beginning this weekend.
Our downtown streets are decked out in holiday style and during this extended weekend you can take part in many of our annual holiday traditions like Christmas at Biltmore, the impressive Winter Lights display at the North Carolina Arboretum, and the Lake Julian Festival of Lights. Asheville offers so many ways to get into the holiday spirit. See our guide to 8 ways Asheville sparkles for the holidays!
Don't miss your chance to experience this unique and festive time of year! Utilize our easy-to-use search to check room availability and rates at Asheville area accommodations, and be sure to check out the special deals and packages. And, you can check events for any date by using our events calendar search.
Get ready to feast! Asheville is serving up Thanksgiving meals so you don't have to cook! With the help of the Asheville Independent Restaurant Association, we have put together a guide to Asheville restaurants open on Thanksgiving.
Once the turkeys all gone and you've come out of your food coma, there are tons of events happening all around Asheville to experience. Don't miss these great events happening this weekend!
The Holly Jolly Christmas Trolley Tour
November 27 – December 30, 7:00 p.m. – 8:15 p.m.
Departs from The Olde World Christmas Shop, Biltmore Village
Take a fun and festive tour of Asheville aboard the Gray Line Trolley. This seasonal favorite features an entertaining blend of holiday storytelling and traditional Christmas caroling. Enjoy stories of local lore and holiday traditions, then join-in with our on-board musician singing classic carols and songs of Christmas. And all the while the Holly Jolly Trolley is rolling past festive holiday decorations in downtown Asheville, Biltmore Village and the Montford and Grove Park neighborhoods. Check the schedule for availability.
Downton Abbey: The Exhibition
Friday, November 8, 2019 – April 7, 2020, 9:00 a.m. – 5:00 p.m.
Biltmore
Fans of the popular the global hit television series will love the new exhibit at Biltmore, which offers never-before seen interactive elements that connect you to your favorite characters, as well as the fashions, locations, and historic events of the time period. Showcased in two estate locations, Downton Abbey: The Exhibition pairs seamlessly with the real-life story of the Vanderbilt family. The Exhibition is included with daytime admission, Candlelight Christmas Evenings admission, or an overnight stay that includes daytime admission.
Lights by the Lake – Lake Julian Festival of Lights
Saturday - Sunday, November 30 – December 1, 5:00 p.m. – 8:00 p.m.
Lake Julian Park
Enjoy a unique holiday experience at the popular Lights by the Lake foot tour that opens the 19th annual Lake Julian Festival of Lights. These are the only nights to experience the light show from the perspective of a stroll through the festival. The festival can be enjoyed by vehicles only December 2-23.
Archetype Beer Release & Hipster Santa Photo Booth
Friday, November 29, 3:00 p.m. – 6:00 p.m.
Archetype Brewing – West Asheville
Skip the malls and head out to get your photo taken with a very Asheville Santa Claus this Black Friday. Archetype is releasing their holiday beer, which is a Belgian Quad aged on American Oak spirals to round out the flavor. Ringing in at 11.5%, this should help kick the holiday season off right.
David Wilcox's Annual Thanksgiving Homecoming Concert
Friday, November 29, 2019, 8:00 p.m.
The Grey Eagle Music Hall and Pub
Head out for a holiday tradition as David Wilcox returns to The Grey Eagle for his Annual Thanksgiving Homecoming Concert featuring special guests. Wilcox, by so many measures, is a quintessential folk singer, telling stories full of heart, humor, and hope, substance, searching, and style.
LaZoom Comedy: Mary Kennedy
Friday, November 29, 2019, 9:00 p.m. – 11:00 p.m.
The LaZoom Room
Boston Native Mary Kennedy can be seen as recurring character "New Fiona" on Shameless, Season 7. She wrote and stars in her one woman show, Mid Life Mood Swing, about being a roadie for her mom's wedding band in the 80's. It premiered in Los Angeles and now is touring. A Professional Comedian, she Headlines all over the country and appears regularly at The Laugh Factory, The Ice House and Flappers Comedy Clubs in Los Angeles.
Highland's Holiday Market
Friday - Sunday, November 29 – December 1, 12:00 p.m. – 6:00 p.m.
Highland Brewing Company
Browse the wares of over 20 vendors, get your holiday photo taken, and try new beer releases all in one big weekend of events at Highland Brewing Company. On Friday, Highland will release their Black Watch Double Chocolate Milk Stout. On Saturday, there will be a chocolate and beer pairing in collaboration with French Broad Chocolate. On Sunday, the WNC Cheese Trail and The American Pig will provide a tasting of locally made cheeses and charcuterie with a series of expertly paired beers.
Live from WVL Radio Theater: It's a Wonderful Life
Friday, November 29, 8:30 p.m. – 11:00 p.m.
Isis Restaurant and Music Hall
A classic film comes to life on the stage. Four actors, original organ music, and live sound effects breathe new life into this beloved story, set and performed "live on the air" as a radio show.
Winter Wonderland at Grove Arcade
November 29, 2019 – December 2, 2020
Grove Arcade, Downtown Asheville
Get a jump-start on your holiday shopping as Winter Wonderland begins at the beautiful Grove Arcade – a historic shopping destination and architectural jewel. Winter Wonderland is when Grove Arcade showcases decorations and holiday spirit at its many shops, restaurants and galleries. Opening night festivities begin this Friday evening from 5:30 p.m. – 7:30 p.m. and include a tree lighting ceremony, a performance by the Asheville Symphony Chorus, indoor snow, and refreshments. Each year the Grove Arcade features a gingerbread house display in partnership with the National Gingerbread House Competition at The Omni Grove Park Inn. Admission is free.
Holiday Flea by Pisgah Market
Saturday, November 30, 12:00 p.m.
Fleetwood's
A must-do for antiques, vintage collectors, art seekers and sellers. The finest vintage picking around, local handmade art and objects, people watching, collecting, and connecting with local and regional vendors and artists.
Holiday Magic and Memories
Saturday, November 30, 2:30 p.m. - 6:00 p.m.
Biltmore Park Town Square
Ring in the season with Holiday Magic & Memories, the annual Holiday Celebration at Biltmore Park in South Asheville. This family-friendly holiday event will take place along Town Square Boulevard with the lighting of the Christmas tree at 6:00 p.m.