Things to Do in Asheville on Thanksgiving Weekend -- Nov. 23-26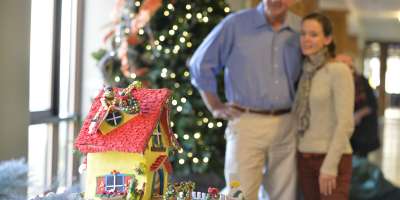 Thanksgiving weekend is the unofficial kick off for the holiday season. And, there's a lot to be thankful for in Asheville with many great seasonal celebrations already underway and several other celebrations soon to begin.
Among the next big holiday events to begin is a 25-year-old tradition: the National Gingerbread House Competition display at the Omni Grove Park Inn.
Read below for more on the Gingerbread event and other ideas for enjoying Thanksgiving weekend in Asheville!
Thanksgiving would not be complete without a great meal! Consider letting an Asheville restaurant do the cooking for you this year. The following restaurants are open on Thanksgiving Day. Please note some restaurants may require a reservation and some may have a limited menu for the holiday.
Biltmore (Stable Café and Cedric's Tavern), Omni Grove Park Inn (Blue Ridge Dining Room, Edison, Grand Ballroom Buffet, Vue 1913), Bier Garden, The Blackbird, Carmel's Kitchen and Bar, Cornerstone, DoubleTree Hotel, Grand Bohemian Hotel, Isa's Bistro, Old Europe Pastries, Pack's Tavern, Princess Anne Hotel, Roux, Savory Thyme Café at North Carolina Arboretum (open for Winter Lights), Sovereign Remedies (light food), Strada Italiano, and Storm Rhum Bar & Bistro.
On Thanksgiving, Biltmore Estate is open to visitors. See the home decorated for the Christmas at Biltmore celebration. There are 100 hand-decorated trees located throughout the home and the estate. For ticket pricing and information, please see our Christmas at Biltmore guide.
You can also attend Winter Lights at the North Carolina Arboretum on Thanksgiving Day. A half-million lights illuminate the gardens and natural landscapes. Please note that you must purchase tickets online in advance to attend Winter Lights. See our guide to Winter Lights for more.
Saturday (Nov. 25), 12-5 p.m.
Lexington Avenue Glassworks (81 S. Lexington), Asheville
Lexington Glassworks in downtown Asheville will release 100 limited edition ornaments to help you get in the holiday spirit! This family-friendly event has become a yearly tradition for both locals and visitors. See glassblowing demonstrations and try your luck at the raffle. There will also be seasonal beer by Oskar Blues Brewery and hot cider. Lexington Glassworks is adding a retro flare this year with Free Range DJ spinning 7" vinyl holiday records. The event is free to attend.
Music fills the air in Asheville for the holiday weekend! The Grey Eagle hosts David Wilcox's Annual Thanksgiving Homecoming Concert on Friday at 8 p.m. The folk singer and songwriter is celebrating 20 years of making records and touring the world. He'll be joined on stage at this show by some close friends and well respected songwriters. On Saturday night, the Grey Eagle hosts the annual Thanksgiving homecoming show with Acoustic Syndicate. Experience the band's unique blend of rock and bluegrass that has attracted audiences for two decades.
At Isis Restaurant and Music Hall, the Kruger Brothers play two nights of shows (Friday and Saturday at 8:30 p.m.). Originally from Switzerland, the Kruger Brothers began playing American folk music at an early age. Upstairs at Isis on Friday night, hear two of the most exciting young musicians for a night of Irish songs. An Evening with Dave Curley and Andrew Finn Magill begins at 7 p.m. Magill is an Asheville native.
And, in nearby Black Mountain, the Asheville area's vibrant jazz scene is featured Friday night at 8 p.m. at White Horse Black Mountain with the Asheville Jazz Orchestra Combo. The 17-piece band is considered Western North Carolina's premier big band.
Friday (Nov. 24), All Day
All Adventure Center of Asheville locations
Celebrate "Green Friday" outside and help a great cause. Have fun zipping and climbing at the Adventure Center of Asheville! Kids ages 4 and over can do the KidZip. Anyone 4 and over can tackle the 60 unique challenges in the Treetops Adventure Park. The Adventure Center of Asheville will donate 50 percent of all revenue to local non-profit organizations.
A mostly sunny weekend is expected here in the mountains for Thanksgiving weekend! Enjoy fewer crowds on the trails, and see even more expansive views thanks to fewer leaves on the trees. Take a look at our hiking guide for ideas. We have broken down the trails into easy, moderate and difficult to help you choose the trail that's right for you.
Nov. 26-Jan. 4 (Sunday through Thursday)
The Omni Grove Park Inn, Asheville
See the nation's best gingerbread houses as you celebrate the 25th Anniversary of the National Gingerbread House Competition display at The Omni Grove Park Inn. The Omni Grove Park Inn invites guests not staying at the resort to view the gingerbread houses beginning Sunday, Nov. 26, at 3 p.m. See the houses each week, Sunday (after 3 p.m.) through Thursday, until Jan. 4, 2018. A minimum $20 parking charge will apply to all drive-on guests. Half of each parking charge collected this season is returned to the community in support of various local non-profit organizations. Please note that on busy days, parking may reach capacity. If that happens, guests may be asked to return at another time.