Things to Do in Asheville On Memorial Day Weekend -- May 25-28, 2018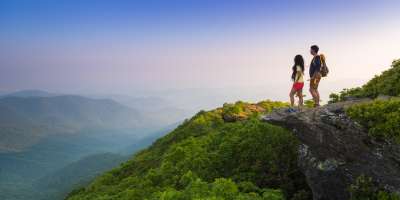 Memorial Day Weekend is a time of reflection and remembrance. It's also traditionally the unofficial start to summer.
And, what better way to kick off the season than with a weekend in Asheville. There are so many events, festivals and celebrations to choose from on this holiday weekend.
Plan your trip to Asheville by utilizing our easy-to-use search to check room availability and rates at Asheville area accommodations. And, you can check events for any date by using our events calendar search.
Here's a look at what you can enjoy this weekend in Asheville:
Mountain Sports Festival
Friday through Sunday (May 25-27)
Carrier Park (with some events at other locations), Asheville
Now in its 18th year, the Mountain Sports Festival is staple of Memorial Day Weekend in Asheville! This free event celebrates athletics, music, community and local business. The festival offers paddling, running, live music, and local beer and food. You don't have to be a star athlete to take part in the fun. The festival is about promoting all participation levels in mountain sports. The event is also a fundraiser with the majority of the funds going to support Streets to Peaks – a program providing enriching outdoor experiences to young people who have limited access to wilderness adventures. While the event is based at Carrier Park, some races may be held at a variety of other locations including Smoky Mountain Adventure Center and Glen Bridge Park. Please be advised pets are not allowed at this particular event.
May 25-June 2
Various Locations, Asheville
Cheers to a week of celebrating the great local suds in Beer City USA. Asheville Beer Week officially kicks off Friday. During this nine-day celebration of all things beer, taste great craft brews, pair beers with a smorgasbord of delicious food and learn about brewing at events around town. More than 40 breweries are on tap to participate. Beer Week closes with the popular Beer City Festival in Pack Square Park (June 2), which celebrates the local brewing industry with taps from dozens of breweries and plenty of live music.
Friday, 10 a.m. to 2 p.m.
Tanbark Tunnel, Blue Ridge Parkway
Join in the season's first Blue Ridge Parkway Hike of the Week! Parkway rangers will lead you on a moderate, 1.5-mile round trip hike to the old site of Rattlesnake Lodge. There you'll find the remains of Dr. Ambler's famous mountain retreat and explore the lush forest that thrives there today. Meet at the dirt pull-off by the southern entrance of Tanbark Tunnel, Milepost 374.4. It's a good idea to bring water and wear good walking shoes. The hike is free to attend.
Monday, 3:30-5 p.m.
Folk Art Center, Blue Ridge Parkway, Asheville
Celebrate Memorial Day with an open-air symphonic winds concert presented by the Asheville Community Band at the Folk Art Center on the Blue Ridge Parkway. The afternoon will include patriotic music and a relaxed atmosphere.
Saturday and Sunday, 10 a.m. to 5 p.m.
Kenilworth Neighborhood, Asheville
Artists in Asheville's Kenilworth neighborhood will open their studios Memorial Day Weekend for you to see them at work and purchase one-of-kind pieces. This is a free, self-guided tour. The tour includes artists working in a wide range of media including painting, jewelry, pottery, ceramic tile, glass beads, fiber, furniture, mixed-media, photography, paper and collage. A tour map and brochure can be downloaded on the tour's web site.
Saturday (May 26), 2-10 p.m.
The Bywater, Asheville
Local artists and musicians power this self-sufficient, local festival. At the Poelico Arts Festival, you'll find food trucks, local businesses, a beer release and great activities. All day admission is just $5 at the door. Support local artists and bring home some beautiful art work to go with the memories you make along the way!
Saturday (May 26), 12-7 p.m.
68 Haywood Street, Downtown Asheville
Watch as makers, artists, collectors, musicians, chefs, entertainers and inventors magically transform a space in downtown into a free outdoor festival! The Venture Local Fair will take over 68 Haywood Street and will include great eats and drinks and top local food trucks. Can't make it this weekend? The Venture Local Fair takes place every fourth Saturday of the month from May through October.
Sunday (May 27), 8:30 a.m. to 2 p.m.
Biltmore, Asheville
Bring your Land Rover vehicle to explore the wooded trails and lush meadows on the grounds of Biltmore! You'll drive the latest Land Rover models and enjoy one-to-one coaching from an expert instructor at your side. Pricing is per vehicle with up to three people. Learn more about the experience by seeing the online brochure.   
Asheville has long been known as a place of wellness. People have traveled to the Blue Ridge Mountains for decades to experience healing and relaxation. This holiday weekend, there are numerous opportunities to experience the local wellness culture.
You are invited to celebrate the 10-year anniversary of De La Terre Skincare and Holistic Spa by enjoying free refreshments and skin therapy treatment. The open house is Friday, May 25, from 4- 6 p.m. at the De La Terre Showroom at 47 Haywood Road. Free treatments include Herbal Food Soak, Facial Hydrotherapy and Eye Treatment.
The Salt Spa of Asheville will host a gong bath meditation on Friday from 5-6 p.m. at its Himalayan Salt Cave Sanctuary at 473 Hendersonville Road (Suite B). The gong is an ancient instrument used for "transformation, healing and to entrain people to a theta brain wave state to promote well being and balance." Breathing the clean salt air deepens therapeutic benefits. Reservations are required. It is $35 to attend.
And, the Asheville Salt Cave in downtown gives you the opportunity to experience a 45-minute community relaxation session inside the Salt Cave. The host will do a brief guided relaxation, allowing the rest of the time to be dedicated to meditation. Various time slots are still available for this weekend. Make reservations online or by phone in advance.
Friday
Lara Hope & The Ark-Tones – Winner of the 2017 Ameripolitan Music Award for Best Female Rockabilly Artist. Isis Restaurant and Music Hall, Music on the Lawn, 6:30 p.m.
Carlos Funk – Guatemala's Blues Ambassador with roots in the Swannanoa Valley. White Horse Black Mountain, 8 p.m.
Chris Wilhelm & Friends – Band with acoustic guitar, keyboard, drums and bass performs in a beautiful listening room in the River Arts District. Asheville Guitar Bar, 8 p.m.
Saturday
Off With Your Radiohead – Asheville's very own Radiohead tribute band. Asheville Music Hall, 8 p.m.
The Lost Chord – Asheville-based Moody Blues tribute band. The Grey Eagle, 8 p.m.
Robin Bullock – Celtic guitarist known as "one of the best folk instrumentalists in the business." White Horse Black Mountain, 8 p.m.
Sunday
Russ Wilson Presents Give the Drummers Some – A unique show featuring four drummers along with piano, bass and horns. Isis Restaurant and Music Hall, 7:30 p.m.