Things to Do in Asheville on Memorial Day Weekend 2017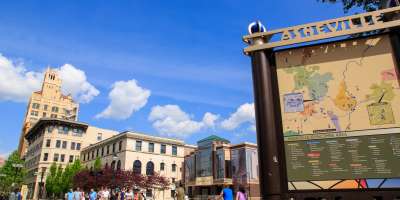 Memorial Day Weekend signals we're in the final stretch to summer. And, this year, the holiday weekend will really feel like it, too. The forecast calls for temperatures reaching well into the 80s. While the warm weather will be great for outdoor adventure, Asheville is also serving up big celebrations of music, the arts, and beer.
Here's what's on tap:
Various Locations
Beer Week: May 26- June 3
Beer City Festival: Saturday, May 27, 1-6 p.m. 
Having already earned the nickname Beer City USA, Asheville continues to grow its booming beer scene. Now, 34 breweries call the Asheville area home! What better way to celebrate than with Asheville Beer Week -- nine full days dedicated to all things beer! Bottle releases, beer and food pairings, and beer workshops are among the daily happenings. Beer Week is highlighted by the popular Beer City Festival, which takes place in Pack Square Park and features more than 40 breweries.
Carrier Park, Asheville
Friday through Sunday 
Professional and amateur athletes duke it out with physical challenges ranging from cyclocross to standup paddleboard, from triathlon to Bellyak. Asheville's Carrier Park turns into "Festival Village" with a top-notch live music schedule. Outdoor enthusiasts will showcase and demonstrate the latest gear. The festival is free and family-friendly.  
Various Locations
Friday through Monday
The Asheville music scene offers something for every musical taste. This holiday weekend is no exception with national and local music heavyweights taking to the stage. North Carolina-raised Parmalee, nominated in 2016 as American County Music Group of the Year, plays at Salvage Station on Friday at 9 p.m. Grammy-nominated punk revival band Franz Ferdinand, who gained international fame with the song "Take Me Out," rocks The Orange Peel also on Friday at 9 p.m. For the past four decades, The Midnight Plowboys have been an Asheville staple with their straight up string band roots sound. They'll be at Isis Music Hall Friday at 7 p.m. On Saturday at 7 p.m., also at Isis, local favorite and up-and-comer Brie Capone mixes southern rock, blues, and soul as she performs with Kentucky band Bridge 19.
Grey Eagle and The Orange Peel, Asheville
Friday through Sunday
The world is a stage in Asheville, where street performers dazzle daily throughout town. Now in its 11th year, this festival celebrates the area's vaudeville roots and draws renowned circus and burlesque performers from across the United States and Europe.
Black Mountain
Monday, 10 a.m.
Just eight miles away from the Charles George VA Medical Center, the Western Carolina State Veterans Cemetery in Black Mountain hosts a Memorial Day commemoration. There are 5,700 veterans and family members buried there. American flags are placed on every grave.
Roger McGuire Green Stage of Pack Square Park, Asheville
Monday, 2:30 p.m.
In the heart of downtown Asheville, pay tribute to those who paid the ultimate sacrifice defending our nation's freedom. The City of Asheville Mayor's Committee for Veteran's Affairs hosts a ceremony and concert featuring the North Carolina Fort Bragg 82nd Airborne Band and the Reuter Center Singers.
McCormick Field, Asheville
Monday, 4:05 p.m.
Enjoy America's pastime on Memorial Day when the Asheville Tourists (A – South Atlantic League) take on the Lexington Legends. Kids under 12 eat free!
Various Locations, Asheville
Saturday and Sunday, 10 a.m. to 5 p.m.
You don't have to go far to enjoy Asheville's creative spirit! More than 20 artists open their studios at 11 locations between downtown Asheville and Biltmore in the Kenilworth neighborhood. Artists ranging in age for 14 to 92 showcase works from a variety of mediums.
With warm weather in the forecast, head outdoors and explore the beauty of the Blue Ridge Mountains. Choose from an easy, moderate, or challenging hiking trail or enjoy the day at your leisure with a mountain picnic with 360-degree views.
Top photo by Jared Kay. Beer photo by Emily Chaplin. Performer photo by Tempus Fugit Design. Picnic photo by Jared Kay.