Things to Do in Asheville on Labor Day Weekend 2018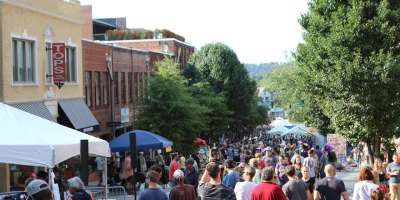 Labor Day weekend is your opportunity to end summer on a high note! Asheville is the perfect place to do just that. In town, and in neighboring communities, find big celebrations, live music performances and endless outdoor adventure for a fun and relaxing holiday weekend!
Plan your trip to the Asheville area by utilizing our easy-to-use search to check room availability and rates at Asheville area accommodations. And, you can check events for any date by using our online events calendar search.
Here's a look at what you can enjoy this weekend in and around Asheville:
Sunday (Sept. 2), 12-9 p.m.
Lexington Ave., Downtown Asheville
Head to downtown Asheville for a free music and arts festival. The festival (formerly known as the Lexington Avenue Arts and Fun Festival) brings together music, dance, theater, art, and food. It's a celebration embracing all of Asheville's artistic culture! Find the festival on Lexington Avenue from College Street to the intersection at I-240.  
Downtown Asheville Festival of the Arts
Saturday and Sunday (Sept. 1-2)
Pack Square Park, Asheville
This two-day festival features a variety of regional and national artists who specialize in handmade works of art. Among the more than 80 artists will be painters, potters, jewelers and glass blowers.
Sunday (Sept. 2), 10 a.m. – 6 p.m.
Pack Square Park, Downtown Asheville
The Asheville Vegan Society celebrates compassionate eating and sustainable living at this festival where vegetarians, vegans, and those curious about a plant-based lifestyle can come together. Taste what's fresh and new (there will be samples!) and hear great live music, sit in on speaker sessions, and put a smile on your child's face in the kid's activity area. The festival marks the culmination of Vegan Awareness Week.
Friday through Monday (Aug. 31-Sept. 3)
Main Street, Hendersonville
Nothing signals the beginning of the transition from summer to fall like the opening of all the local apple orchards. The nearby community of Hendersonville throws a big celebration to mark the occasion! This four-day event is one of the best-known street fairs in the Carolinas, with freshly-picked apples, arts & crafts and free live entertainment at the historic courthouse! As you celebrate, check out some of the pick-your-own produce farms throughout the area!  
Sunday and Monday (Sept. 2-3)
Sorrells Street Park, Canton
The city of Canton, just 20 miles west of Asheville, is the host of the oldest Labor Day Festival in the south. The 112th Canton Labor Day Festival is two days of free music, featuring 15 bands from across the region. Food trucks, a farmers market, car show, gospel show, parade, and handmade craft expo, are also part of the celebration. Among the performers this year are the Nitty Gritty Dirt Band, Balsam Range, Joe Lasher Jr., Mountain Faith, Canaan Cox, McKayla Reece, Lyric, and Keil Nathan Smith.   
Beer City Cup Adult Soccer Tournament
Sunday (Sept. 2), Semifinals/Finals, 12-10 p.m.
Memorial Stadium, Asheville
The Beer City Cup is the biggest adult soccer event in the United States! A record-breaking 100 teams representing 25 U.S. cities from ten states will compete for $12,000 in cash prizes!  The event is family-friendly And, it is free to attend the Semfinals/Finals on Sunday. There will also be great local beer available (just $3). A portion of the proceeds will go toward area charities. 
Saturday and Sunday (Sept. 1-2)
The Orange Peel and The Mothlight, Asheville
Heavy Mountain Festival is a celebration of heavy metal music and beer in Asheville. The festival is being billed as a first of its kind for the area, pairing heavy music with the craft breweries fans love. The Saturday show is at The Mothlight. The Sunday show is at The Orange Peel. Separate tickets are required for each show.
Saturday (Sept. 1), about 7 p.m.
Pack Square Park, Downtown Asheville
Experience Shindig on the Green, a free, outdoor, mountain bluegrass music and dance festival. The shindigs take place in the heart of downtown Asheville at Pack Square Park on eight Saturday nights throughout the summer months (June through early September). In addition to scheduled stage shows, Shindig on the Green features informal performances and jam sessions on the stage and around the park. Bring a lawn chair or a blanket and enjoy. The performances begin at about 7 p.m. or "along about sundown" as folks around here like to say! See our guide to Shindig on the Green for more information.
Now through October 7, 2018
Various Locations in and around Asheville
Join in the celebration! The Summer of Glass in Asheville is going on now! There are just two months remaining of the Summer of Glass celebration of glass art in Western North Carolina, which coincides with the Chihuly at Biltmore exhibition.
For the first time in North Carolina, the monumental glass sculptures of Dale Chihuly are on large-scale exhibition. The glass sculptures are set throughout areas of Biltmore Estate, primarily in the gardens. As part of the exhibition, Biltmore is hosting a first-ever evening experience, Chihuly Nights, in the gardens that offer views of the sculptures after dark (Thursday through Sunday).  
In addition to showcasing the Chihuly glass sculptures, Biltmore hosts glassblowing demonstrations in Antler Hill Village, Fridays, Saturdays and Sundays from 2-5 p.m. (weather permitting).
There are many other events going on throughout the Asheville area from workshops to demonstrations to special celebrations. Check out our guide to the Summer of Glass and learn how you can take a VIP Weekend Tour (a glass lover's dream!) to experience it all! The next VIP tour is coming up in September. The experience includes a glassblowing demonstration, guided visits to galleries and studios, a chance to meet accomplished glass artists and a hands-on glass experience. The tour also includes both day and night tickets to Chihuly at Biltmore.
Also, don't miss the opportunity to take the Gray Line Hop on/Hop off Summer of Glass Trolley Tour experience.
Asheville is known as a world-class hiking destination, with thousands of miles of trails meandering through the mountain peaks and valleys. This long holiday weekend, discover the beauty of the Blue Ridge by taking one of these many trails. Use our hiking guide to choose from easy, moderate and challenging hikes. We've just added 10 new hikes to our page! Remember to pack water and wear appropriate, closed toe footwear!
Live Music and Entertainment
These are just a few highlights of the many live music and stage show performances in Asheville this weekend. For a full list of live music events please see our live music calendar. 
Friday
The Jordan Okrend Experience – Join local favorite musician Jordan Okrend for a free concert on the lawn. Isis Restaurant and Music Hall, 6:30 p.m.
God's Favorite – The Book of Job is presented as a comedy and performed as Readers Theatre as part of the Autumn Players' Readers Theatre Showcase series. Show by Neil Simon. Friday is opening night. Asheville Community Theatre 35below, Friday/Saturday, 2:30 p.m.. Reuter Center UNCA, Sunday, 2:30 p.m.
JP Harris and Hearts Gone South – It's a night of honky tonk! Asheville locals Hearts Gone South open the show for Nashville sensation, JP Harris. The Mothlight, 9 p.m.
The Snozberries Present A Psychedelic Circus – Fractal projections, liquid lights, live artists and face painters create an immersive experience. Asheville Music Hall, 10 p.m.
Saturday
Al Petteway – Grammy-winning acoustic guitarist who plays a compelling mix of original music with strong Celtic, Blues, Americana and Jazz influences. Isis Restaurant and Music Hall, 8:30 p.m.
Exploring New Horizons (Great Piano Classics) – Featured pianist Christopher Tavernier will astound classical purists with his grace and technique. Diana Wortham Theatre, 6:45 p.m.
Underhill Rose – Duo from North Carolina who have been called "one of the most promising rootsy women artists in the Americana scene." Asheville Masonic Temple, 7 p.m.
Red Herring Puppets "My Grandfather's Prayers" – A multi-media performance piece that powerfully demonstrates the poignancy of ancestral connections. Show will be performed both Saturday and Sunday. White Horse Black Mountain, 8 p.m. (Saturday), 7 p.m. (Sunday).
Sunday
Carlo Aonzo Trio – The band, led by famous Italian mandolin player Carlo Aonzo, presents a repertoire of Italian classics.