Things to Do Father's Day Weekend in Asheville -- June 15-17, 2018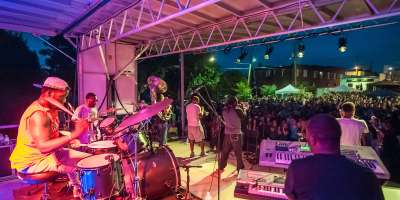 In addition to great hiking, outdoor adventures and favorite experiences, Asheville delivers special events this weekend sure to make Dad smile.
Plan your trip to Asheville by utilizing our easy-to-use search to check room availability and rates at Asheville area accommodations. And, you can check events for any date by using our events calendar search.
Here's a look at what you can enjoy this weekend in Asheville:
Saturday (June 16), 12:30-9:30 p.m.
Pack Square Park, Asheville
The Better Dads Festival returns this Father's Day with Grammy-Award winner Secret Agent 23 Skidoo headlining a full music lineup. The festival features a unique mix of active, soulful, inspirational, fun and educational activities designed to celebrate fatherhood. Among the activities will be dance, drumming, storytelling, crafts and a dress-your-dad photo booth. Joining Secret Agent 23 Skidoo on the stage will be Asheville's very own LYRIC, who performs with her father, and the Willies from Nashville. Storytellers Ray Christian and Passion join the festival this year. And, you'll have the opportunity to talk with representatives from more than 20 community partners who will provide information and resources for parents.
Father's Day Events
Bring Dad to Biltmore for just $25 with the purchase of an adult admission. It's a great chance to see the Chihuly at Biltmore exhibition and to enjoy fantastic Father's Day dining.
Relax with great food off the grill, cold beer and laid-back vibes at a Father's Day Cookout at Tod's Tasties in the historic Montford District just a few blocks from downtown Asheville.
Honor Dad with a delicious feast at Golden Fleece, where he can enjoy $4 craft beers all day long. Golden Fleece is offering a brunch and dinner service with tasty specials.
Saturday and Sunday (June 16-17)
Various Venues
The festival brings together community, arts and music for a free, two-day celebration. There's a little something for every music taste thanks to five sound stages. There will also be activities for children. The festival's main stage will be located in the parking lot of Isis Restaurant and Music Hall. See the full music and event line up for more information.
Friday (June 15), 5-9 p.m.
Downtown Asheville
Asheville's downtown outdoor concert series takes place the third Friday of the month, May through September! The free live music event will have local favorites Town Mountain as its headliner this Friday night. Sanctum Sully opens the show. While you listen to the music, enjoy local and national brews, and fuel up with food from local food trucks and eateries. 
Saturday (June 16), 7-9 p.m.
Biltmore Park Town Square, Asheville
Bring your family and enjoy an evening of music in Biltmore Park Town Square in south Asheville! The Concerts in the Park are two hours of live music, dancing and fun. Rock Academy is the headliner this week. The Concert Series series takes place on select dates through September.
Fridays, Saturdays and Sundays, 7:30 p.m. nightly
Hazel Robinson Amphitheatre (92 Gay Street), Asheville
Attend a free performance of A Midsummer Night's Dream at an outdoor amphitheater in the historic Montford District. The Montford Park Players have been presenting Shakespeare and other classical works to the Asheville community since 1973 and has become a proud theatrical tradition. All the performances are held at the Hazel Robinson Amphitheatre on Friday, Saturday and Sunday evenings throughout the month of June.   
Saturday (June 16), 11:30 a.m. – 9 p.m.
Sweeten Creek Brewing, Asheville
Join Sweeten Creek Brewing for a family-friendly, pet-friendly picnic, featuring specialty hot dogs and sides in addition the regular sandwich menu. Grab a pint from one of the two bars, including their brand new outdoor bar beginning at 11:30 a.m. Bring a chair or blanket and enjoy free live outdoor music and yard games.
Friday (June 15), 9-11 p.m.
LaZoom Room, Asheville
Yedoye Travis is a stand up comedian, writer and actor from Atlanta, Ga. He has appeared on Comedy Central and Late Show with Stephen Colbert and has been a contributor for MTV.
Live Music and Entertainment
Friday
The Beyond the Lyrics Tour – An acoustic evening with Becca Stevens and special guest Cecily. The New York Times describes Stevens as a "best-kept secret." Isis Restaurant and Music Hall, 7 p.m.
Andalyn – Singer/songwriter with a country sound that rides the edge of southern rock and Americana. Highland Brewing Company, 7 p.m.
The Old Chevrolet Set with Vollie McKenzie – Honky Tonky Night with this classic country band. White Horse Black Mountain, 8 p.m.
6 String Drag – Roots oriented Rock and Roll. Isis Restaurant and Music Hall, 9 p.m.
Saturday
Cantaria 20th Anniversary Concert – The Asheville Gay Men's Chorus presents a night of music. Diana Wortham Theatre, 7:30 p.m.
Cash United – Cash United delivers a complete catalog of breath taking music from John Cash, one of the greatest country artists of all time. Salvage Station, 9 p.m.