The Hunger Games Craze Hits Asheville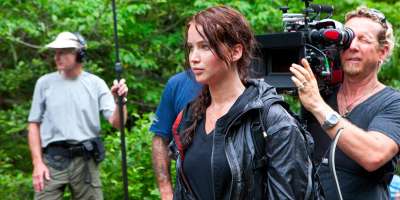 Go Behind The Scenes in Asheville: Survival Skills, Celebrity Suites & Star Stalking
Jennifer Lawrence on the set of The Hunger Games.
With the Academy Awards just days away, all eyes will be on the red carpet this week, but Oscar buzz will quickly shift to movie predictions for 2012. Critics are touting
The Hunger Games
. Set in post-apocalyptic Appalachia with a gripping (read: addictive) storyline rife with star-crossed teenage romance, kill-or-be-killed drama and
moonshine
-induced benders, the movie is poised for box office success. Fans may soon be clamoring for a closer look at its
Blue Ridge Mountain
location.
That's where we come in. F
ollow the footsteps of the famous Tributes in your escapades around Asheville, or get your heart pumping with mountain wilderness adventures that will put your survival skills to the test. We even have the scoop on where the stars stayed while in Asheville and you can book the same rooms! Follow the link below to find out more information and may the odds be ever in your favor.
Learn More About The Hunger Games Travel Packages
February 23, 2012