The Curtains Go Up on Holiday Productions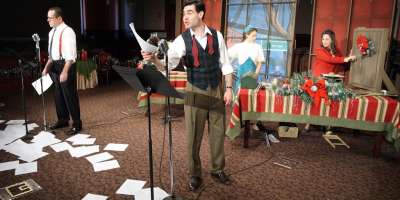 From left: Michael MacCauley, Willie
V.R. Repoley, Maria Buchanan and Rachelle
Roberts. Photo courtesy of Treadshots.
Watch the holiday season come to life in Asheville at one of the many dance and theater productions debuting during the coming weeks. From the traditional to the musical, there's something for everyone:
For a "wonderful" evening:
Take a step back in time to the WVL radio studio on Christmas Eve 1945, in "Live from WVL Radio Theatre: It's A Wonderful Life," presented by Flat Rock Playhouse and the NC Stage Company. This new twist on Frank Capra's classic film breathes new life into Bedford Falls and everyman George Bailey, just in time to kindle some holiday spirit in us all.
For Christmas past, present and future:
Fans of Ebeneezer Scrooge, Jacob Marley and Bob Cratchit have a couple of options this season, including the classic production from the Montford Park Players, now in its 35th year. New to the Dickens scene this year is a musical presentation, produced by Flat Rock Playhouse and their YouTheatre students. Come check out this unique production, with music by Disney's Alan Menken.
For the Nutcracker enthusiast:
Whether you prefer ballerinas in tutus or mermaids afloat in a sea of taffy, Asheville-area theaters have enough Nutcracker for every week in the month of December. Diana Wortham Theatre alone is offering three different productions beginning early in the month. Check out Asheville Contemporary Dance Theatre's version, "The Nutcracker and the Mouse King," based on the original story from 1861, or plan to see traditional presentations from the Asheville Ballet and the Ballet Conservatory of Asheville. And on Dec. 21, Thomas Wolfe Auditorium welcomes the Moscow Ballet's "Great Russian Nutcracker" for one night only.
Check out our event calendar for more performance listings...
November 23, 2010