The Craft Fair of the Southern Highlands (win tickets!)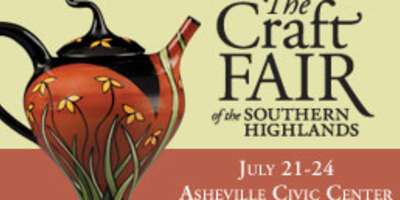 In a "made in China" world it's refreshing to know that the art of handmade craft is still alive and well in the Appalachian mountains. See for yourself at the Craft Fair of the Southern Highlands where over 200 craftspeople will be present selling their works of clay, fiber, glass, leather, metal, mixed media, natural materials, paper, wood and jewelry. It all takes place at the Asheville Civic Center this week, from July 21 - 24.
From the Craft Guild's website: Since 1948, the Southern Highland Craft Guild have been showcasing the work of artists living in the mountain counties of nine states from Maryland to Alabama. Unlike any other fair, the Craft Fair of the Southern Highlands is an experience, a place to show off the talent and innovation of Guild members. It is diverse with crafts rooted in Appalachian traditions being featured along with the work of contemporary artists, reinventing their medium to accommodate the modern world and to reflect their view of it. Having been accepted into the Guild through a rigorous jury process, these craftspeople are the best of the best in the Appalachian region.
July 19, 2011