The Asheville Wedding Seen Around the World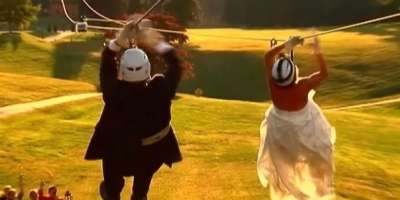 Bride and Groom Make Aerial Entrance to Wedding.

Good Morning America featured a happy couple, Lauren and Ben Youngkin of Asheville, as they tied the knot recently. The bride and groom made an unusual entrance by riding down dual ziplines located at Asheville Zipline Canopy Adventures. See for yourself in the video below.

This video went viral within news organizations. Beyond Good Morning America and ABC World News, the wedding was featured on outlets such as Inside Edition and Metro, a UK-based news reporting service. The Youngkins probably never imagined their quirky idea to zip down the isle would attract so much international attention.

Congrats to the newlyweds!


September 30, 2013