The Art of Food: Experience Asheville Art Museum's Newest Tasty Collection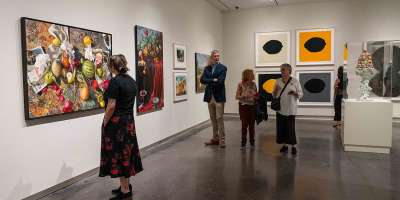 How do we think about our food?
This is the simple yet layered question posed in the Asheville Art Museum's newest collection: The Art of Food — a deep dive into the significance of what we put into our mouths, the community that it builds, the people that we love and, in some ways, how what we put on our plate defines us.  
Running through October 22, the exhibition features 37 artists including original pieces from Andy Warhol, Robert Rauschenberg, Roy Lichtenstein, David Hockney, John Baldessari, Ed Ruscha and Jasper Johns, alongside the work of contemporary artists like Alison Saar, Lorna Simpson, Enrique Chagoya, Rachel Whiteread and Jenny Holzer.
With more than 100 works — including drawings, paintings, photographs, sculptures and ceramics — the exhibition will satisfy your hunger for compelling art. With the warm summer months upon us, now is the perfect time for a visit to the Asheville Art Museum. Make sure and visit the museum's rooftop Perspective Café that offers local food and drinks to enjoy while walking through the sculpture terrace and taking in gorgeous views of the city skyline and mountain scenery.  Do you have a big group? Book your guided tour here! 

Details
Hours: Open daily (except Tuesday), 11 a.m.-6 p.m. and 9 p.m. on Thursday.
Location: 2 South Pack Square Asheville, NC 28801
Contact: 828-253-3227 or email mailbox@ashevilleart.org
Prices: 
Always free for Museum Members, UNC Asheville students, active-duty military personnel with valid ID, and children under 6
$15 general admission (plus tax)
$13 adult discounted admission (senior 65+) (plus tax)
$10 student discounted admission (child 6–17, degree-seeking college students with valid ID) (plus tax)
Updated July 19, 2023