Thanksgiving in Asheville 2012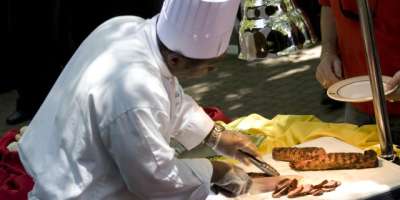 Restaurants Open for Thanksgiving in Asheville.
Want someone else to do the heavy lifting in the kitchen for Thanksgiving this year? We don't blame you. Here are a list of some restaurants open for business on Thanksgiving day in Asheville. You may want to call and make a reservation just in case.
For those interested in the Thanksgiving buffet feast at Grove Park Inn, unfortunately, that event is all sold out. 
| | |
| --- | --- |
| Bavarian Lodge Restaurant | (828) 645-8383 |
| Bier Garden | (828) 285-0002 |
| Biltmore Estate - Bistro | (828) 225-6230 |
| Biltmore Estate - Cedric's Tavern | (828) 225-1320 |
| Bistro 1896 | (828) 251-1300 |
| Burger Worx | (828) 253-2333 |
| Carmel's Restaurant & Bar | (828) 252-8730 |
| Chop House Asheville Downtown | (828) 253-1851 |
| Cornerstone Restaurant | (828) 236-0201 |
| Double Tree - Dining Room | (828) 274-1800 |
| Edna's of Asheville | (828) 255-3881 |
| Fatz Cafe | (828) 665-9950 |
| Frankie Bones Restaurant & Lounge | (828) 274-7111 |
| Glass Onion Restaurant | (828) 645-8866 |
| Green Tea Japanese Restaurant | (828) 252-8300 |
| Grovewood Café | (828) 258-8956 |
| Horizons at the Grove Park Inn | (828) 252-2711 |
| J & S Cafeteria of Westridge, Inc. | (828) 665-1911 |
| Kathmandu Cafe | (828) 252-1080 |
| Krispy Kreme Doughnut Co. | (828) 254-6007 |
| McDonald's USA LLC | (828) 252-8288 |
| Moe's Original Bar-B-Que | (828) 505-8282 |
| Moose Cafe at the Farmer's Market | (828) 255-0920 |
| Pack's Tavern | (828) 225-6944 |
| ROUX - Hilton Asheville  | (828) 209-2715 |
| Ruby Tuesday | (828) 684-5201 |
| Ruth's CHRIS Steak House | (828) 398-6200 |
| Sazerac | (828) 376-0031 |
| Spa Cafe at the Grove Park Inn | (828) 252-2711 |
| Storm Rhum Bar & Bistro | (828) 582-6312 |
| Strada | (828) 348-8448 |
| Sunset Terrace at the Grove Park Inn | (828) 252-2711 |
| Wild Wing Cafe | (828) 253-3066 |
| Writer's Bistro | (828) 252-8211 |
November 15, 2012