Thanksgiving Fun in Asheville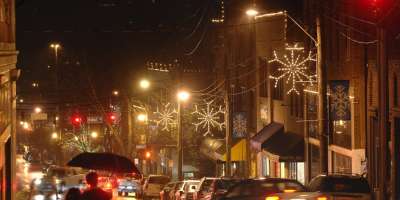 After the turkey's been trimmed and the last slice of pumpkin pie has been served, check out downtown Asheville's fun and funky holiday offerings. Here's a round-up of Thanksgiving fun this weekend:
• Asheville City Market Holiday Bash on Saturday, Nov. 28: Forget the crazy lines at the mall! Shop from local artists and farmers for Christmas trees, baked goods, artisan cheeses, handmade jewelry, candles, quilts, and other unique gifts.
• LaZoom Thanksgiving Tour, enjoy through Nov. 28: Want a side of hysterical laughter with your family time? Check out this two-hour bus tour of downtown, complete with live music and surprise guests.
• National Gingerbread House Competition and Display, enjoy through Jan. 3: Hundreds and hundreds of sugar-sweet gingerbread houses are on display at the Grove Park Inn and Spa.
• Legendary Inns Gingerbread Tour, enjoy through Jan. 2: Hop on board Asheville's Grey Line Trolley for a guided tour of Asheville's Bed & Breakfasts decorated for the holiday season. Highlights include songs, treats, and a collection of gingerbread houses that recreate the magic of "'Twas the Night Before Christmas."



Want More Holiday Fun Ideas?