Sunshine After the Storm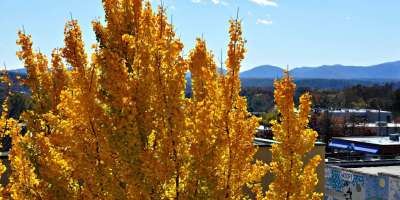 Photos of the Day: Fall Beauty Around Downtown Asheville.
This week, Hurricane Sandy delivered an early blast of snow to the higher elevations across the mountains. While Asheville received a dusting that quickly melted, the storm has kickstarted an early ski season for places like Cataloochee Ski. Conditions in Asheville are now clear and sunny, with this weekend promising to bring warmer temperatures ranging in the 60's.
Currently the trees are still holding on to their colorful leaves despite the strong winds that passed through, and as you can see from these photos taken today, there is still a beautiful fall scene around every corner. That being said, t
his is most likely your final week to see the absolute best fall foliage. Color will continue to trickle down into the lower elevations surrounding Asheville over the next ten days. 
Beautiful views from downtown Asheville - taken 10.31.12
A picture perfect day in Asheville - photo taken 10.31.12
Fall colors line the streets in front of the Jackson building. Photo taken 10.31.12
Happy Halloween!
October 31, 2012