Sunsets at Skybar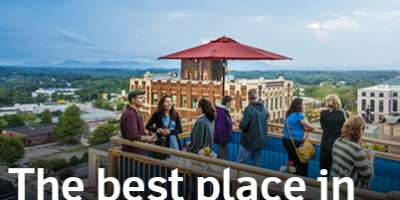 Asheville Insider Tip: Take in the Best View in Downtown.
Skybar is by far one the best spot in downtown for a great spectacular mountain view. Perched atop the Flatiron building, you can enjoy a beverage or light snack while watching the Asheville nightlife from above. Visit during sunset hours for a beautiful show behind the western mountains.
SkyBar may be accessed through the main entrance of the Flatiron Building (next to World Coffee). The doorman will escort you on a ride to the eighth floor of this landmark building for views on four terraces with formal seating and views of the Western horizon and Smokey Blue Mountains.
Learn more about Skybar.
June 13, 2013