Biltmore Gardens Railway Model Train Exhibition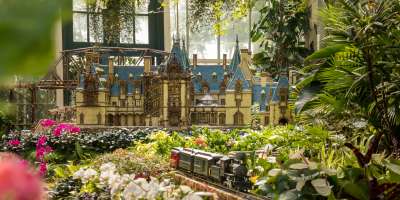 Exhibition Dates: March 9, 2022 – Feb. 20, 2023
Biltmore is moving full steam ahead once again with its popular large-scale model train exhibition! The Biltmore Gardens Railway will transport you to a whimsical place.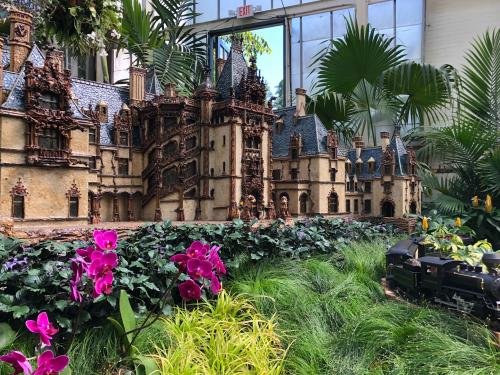 In the Conservatory (located at the foot of Biltmore's Walled Garden and Rose Garden), 800 feet of track carry a locomotive and railcars through gorgeous exotic botanicals. The replicas of estate landmarks are handmade utilizing all-natural materials collected from the estate. 
The Biltmore Gardens Railway exhibition pays homage to George Vanderbilt, who was born into a well-known railroad family. His grandfather Cornelius "Commodore" Vanderbilt spent his life building an empire based on shipping and railroad concerns.
The Biltmore Gardens Railway exhibition is on display March 9, 2022 – Feb. 20, 2023. Admission to Biltmore is required to view the exhibition. There is no additional cost to see Biltmore Gardens Railway.
See our complete guide to Biltmore to plan your visit.
Cool Facts About Biltmore Gardens Railway:
There are 6 separate railroad tracks running through the Conservatory. The trains cross bridges and trestles on various levels and through multiple rooms.
It took artists 3,745 combined hours to construct the eight estate building replicas for the Conservatory exhibition. The replicas are made of 25 types of items harvested from estate grounds.
Top photo courtesy The Biltmore Co.