Steep Canyon Rangers Return to Asheville Stage in 2019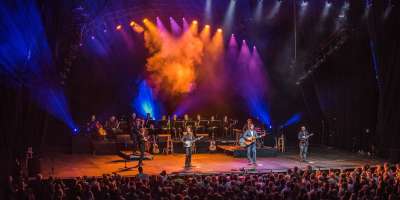 Grammy-award winning bluegrass band Steep Canyon Rangers is returning to the stage at ExploreAsheville.com Arena on January 19, 2019.
For the band, whose members are based in the Asheville area, this will be the second performance in Asheville's largest music venue.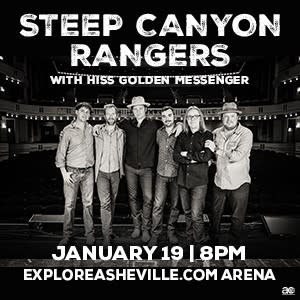 In preparation for the 2018 show, band guitarist Woody Platt remarked, "In the 80s and 90s, I made several trips with my family to the Civic Center to see the circus, The Harlem Globetrotters... It will be wonderfully surreal to take the stage in the big room that I remember so well from childhood and to share the experience with special guests."
Steep Canyon Rangers has been touring across North America since early this year, playing tracks off their most recent album, Out in the Open, and performing alongside iconic comedians Steve Martin and Martin Short. They also appeared as the musical guest on The Tonight Show Starring Jimmy Fallon in May 2018.
Learn more about the Steep Canyon Rangers and the band's ties to the Asheville live music scene.
The January 2019 show will be opened by Durham, N.C.-based folk music band Hiss Golden Messenger.
Pre-sale events for the 2019 Steep Canyon Rangers concert in Asheville will begin Tuesday, October 16, and tickets will go on sale to the public via Ticketmaster on Friday, October 19. A VIP add-on will also be available--it includes a signed poster and access to an exclusive viewing area and cash bar.