Southern Living Poll: Vote Asheville!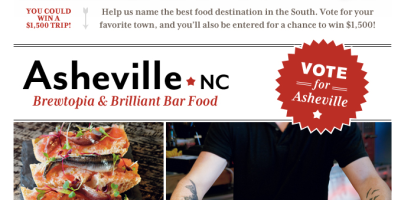 Vote for Asheville as Best Dining Destination in the South and Win $1,500.
Southern Living is hosting an online poll called the South's Tastiest Town, and Asheville is a contender! We're going head to head with some major cities for the title and we need your help to achieve the top spot. Better yet, every voter is in the running for a $1,500 jackpot! The online poll lasts from now through the end of February and you can vote once per day.
Why does Asheville deserve to win? We've long been considered a Foodtopian Society, embracing the tenets of farm-to-table dining before it was cool. We boast 250 independent restaurants, serving up a wide range of flavors from New South flair to Old World cuisine. Ingredients are sourced locally from a long list of farms, creameries and artisan bread makers. Add to that mix culinary talent from around the globe and you can taste what sets Asheville apart from the rest.
Vote for Asheville here!
January 13, 2013