Shakespeare With An Edge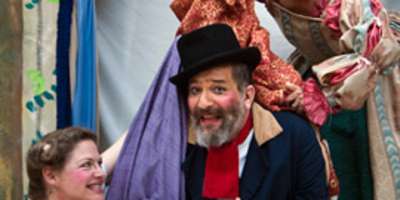 The Montford Park Players Deliver Shakespeare with Circus Antics and Steampunk Flair.
What happens when you mix the satirical writings of one of the world's most famous playwrights with Asheville's vaudeville spirit? You get two of the most creative interpretations of Shakespeare imaginable. This month, make plans to attend one of these free performance by The Montford Park Players.
The Merry Wives of Windsor
As part of their year-long celebration of 40 years in Asheville, the Montford Park Players have decided to incorporate a bit of their hometown into their latest production. "The Merry Wives of Windsor" will be performed under the proverbial big top, as the players turn The Hazel Robison Amphitheatre into a comedic circus. Fire-eaters, acrobats, clowns, and a stilt-walking butoh narrator join the merry wives and oafish knight, Falstaff, on stage, blending Shakespeare's farce with some of Asheville's most fantastic freaks. Falstaff's attempts to woo three different women at the same time results in some hilarious comeuppances. His clownishness fits well with the vision of local choreographer/director Kristi Deville, who imagines the action as a rollicking ride that blends Elizabethan themes with Ashevillian oddness.
This show runs now through August 18. More information here.
Richard II
The Montford Park Players have never performed Richard II in their 40 year history. Now they are presenting the tragedy in grand form as a steampunk opera. Montford Park Players' production combines the political upheaval of King Richard's reign and the social upheaval of the industrial revolution to create a world of grotesque beauty that gives resonance to Shakespeare's words. Civilization turns on its head as Richard's flowery ancestral court falls, and a new group of young technologists rise to power. Unusual for Shakespeare, the play is written almost entirely in verse and features what are considered some of Shakespeare's most beautiful metaphorical soliloquies on nature and politics. Based on the life of King Richard II of England (ruled 1377 – 1399), this is the first play of a tetralogy, often called the Henriad. It is followed by three plays concerning Richard's successor, Henry IV – Part 1, Henry IV – Part 2, and Henry V, all of which are familiar to Montford audiences from past performances. This is a chance to see the beginning of it all.
This show runs from August 24 - September 15. More information here.
August 1, 2012