SFB to AVL: Enjoy a Special Rate with Allegiant Air's New Direct Flight!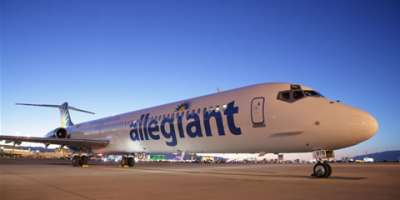 The Florida/Asheville connection just got a little closer this week. Allegiant Air announced a new non-stop flight that connects Asheville directly with Orlando. While this gives Ashevillians access to the many attractions offered in Orlando it also give Floridians a chance to explore the beauty of the Blue Ridge Mountains. The flight begins November 18 which is a perfect time to experience fall activities and shop for unique gifts for the holiday season.
ASHEVILLE TAKES OFF TO FUN AND AMUSEMENT
ALLEGIANT ANNOUNCES NONSTOP, LOW-COST TRAVEL SERVICE BETWEEN ASHEVILLE AND ORLANDO WITH INTRODUCTORY $49.98
* FARES
ASHEVILLE, N.C. —Allegiant today announces new, nonstop jet service between Asheville, N.C., and Orlando, Fla., which will begin Nov. 18. The company, known for its exceptional travel deals, will introduce the new service to Western North Carolina area residents with fares as low as $49.98* one way.
The new flights will operate two times weekly between Asheville Regional Airport (AVL) and Orlando Sanford International Airport (SFB) with service Monday and Friday. Flights will depart Asheville at 8

:20 p.m. 

arriving in Orlando-Sanford at 9:50 p.m. Flights leaving Orlando-Sanford will depart at 6:10 p.m. arriving in Asheville at 7:40 p.m. (all flight times are local). The carrier will utilize a full-size, 150-seat MD-80 jet aircraft on the route.
Allegiant's $49.98* one-way introductory fare is limited, must be purchased by Oct. 3, 2011, and is valid for travel between Nov. 29, 2011, and Feb. 14, 2012. Introductory fares are not available on all flights.


Reservations can be made on the airline's website at www.allegiantair.com or by calling the company's travel experts at 702-505-8888.
September 16, 2011