See Mel Chin's Larger-Than-Life Animatronic Sculpture in Asheville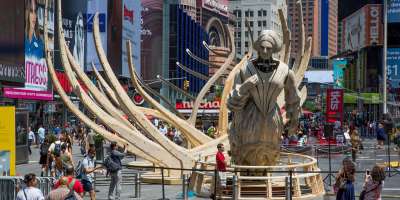 On your next visit to Asheville, enjoy a rare opportunity to immerse yourself in a larger-than-life sculpture installation that is truly making waves!
The 60-foot, animatronic sculpture, Wake by Mel Chin, will be on display in Asheville through March 31, 2021 just blocks south of downtown. Wake is interactive and features decks and places to sit.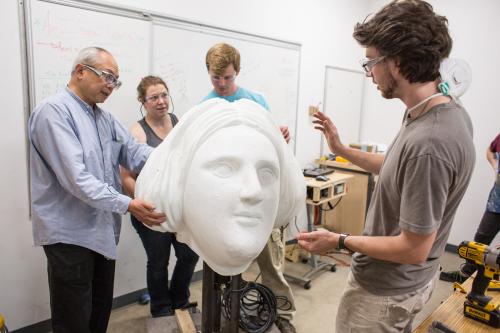 Chin is a Western North Carolina-based conceptual artist who teamed up with University of North Carolina at Asheville students, faculty and staff to create this giant work of art. The sculpture installation just finished a run in New York City's Time Square where it attracted international attention.   
Wake depicts the hull of a shipwreck crossed with the skeletal remains of a marine mammal. That structure is linked with a 21-foot-tall animatronic sculpture that is a replica of a Jenny Lind figurehead that was once mounted on the 19th century clipper ship USS Nightingale. Lind was an opera star who was brought overseas by P.T. Barnum to tour America. You may remember her story from the recent film, The Greatest Showman.
Chin is an artist who is known for calling attention to complex social and environment issues, and with Wake he does just that.
"It's about relationships we have to history," Chin said. "It's almost an obligation to understand our relationships with our environment now and an opportunity to project what things could be like far into the future if we're not engaged."
You can experience Wake daily from 9 a.m. to 9 p.m. at 44 Collier Avenue in Asheville.
This experience is made possible, in part, by funding from the Buncombe County Tourism Development Authority through its Tourism Product Development Fund supported by visitor spending.
Sponsors include: The Buncombe County Tourism Development Authority, Asheville Downtown Association Foundation, City of Asheville Public Art Fund, The Community Foundation of Western North Carolina, Susan and Bubba Crutchfield, Rick and Bridget Eckerd, Hedy Fischer and Randy Shull, McKibbon Hospitality, Pete and Cindy Perez, Public Interest Projects Inc., Micah Pulleyn and Rob Pulleyn, UNC Asheville STEAM Studio.