Scream for (Veggie) Ice Cream! + Recipe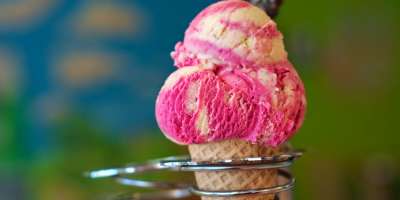 Summer treats with a healthy twist
Photo by Micah Mackenzie, courtesy of The Hop.
Since they took over
The Hop Ice Cream Cafe
in 2008, owners Greg & Ashley Garrison have made some changes to the now 36-year-old scoop shop.
They started working with local farmers and producers to infuse local flavor into the ice cream, including vegan, gluten-free and sugar-free varieties. They brought a full calendar of family-friendly concerts, fundraisers, magic shows and other events to their North Asheville location, and then they opened a second shop, right in the middle of up-and-coming West Asheville.
Cones Gone Wild
How it's made: beet swirl ice cream, courtesy of The Hop.
Now the Garrisons are causing a stir with their veggie-inspired ice cream flavors. In fact,
Saveur magazine included The Hop's blueberry kale variety in this month's "Five to Try" feature
, naming it one of the "Superior Scoops" from across the country. The magazine praised the popular flavor--which is made by blending raw kale into the ice cream and then adding a swirl of fresh blueberry puree--for its "earthy sweetness."
Another Hop flavor, beet swirl, is making waves as well. This colorfully wild flavor is made from local golden and red beets, which are roasted and then individually pureed. Each puree is combined with the ice cream base, and then the two vivid creams are swirled together, resulting in the photogenic scoop pictured here.
The Garrisons created these outlandish ice creams after being intrigued by the growing trend of blending veggies into smoothies and juices, harnessing both the flavors and the health benefits.
RECIPE: Chocolate Banana Cream
Ashley Garrison was inspired to make this dairy-free frozen treat after seeing similar recipes popping up all over the internet. The Hop is one of the only shops that is scooping this healthful blend of fruit and cocoa.
Chocolate Banana Cream
Yield: 1 quart
2/3 lb. bananas, pureed
1/2 c. water
1/2 c. sugar
2 Tbsp. cocoa powder
pinch cinnamon
1/2 tsp. vanilla
Whisk all ingredients in a large bowl until combined and smooth. Add to an ice cream maker and freeze according to the machine's directions. If you don't have an ice cream maker, pour into a freezer safe container and freeze, removing every hour to stir until the desired consistency is reached, 3-5 hours.
Whip up more Asheville recipes.
June 5, 2014