Santa Climbs Chimney Rock on Dec. 5 and 12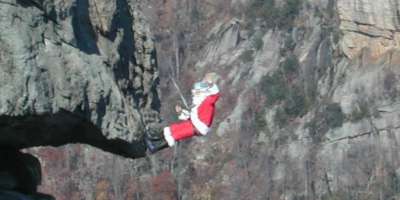 Ever wonder how Santa Claus makes it down thousands of chimneys in record time on Christmas Eve? He practices on the weekends at Chimney Rock Park to ensure he's in prime condition on the big day.

Watch the jolly man hone his skills as he climbs down 315-foot Chimney Rock on December 5 and 12, 11 a.m.-2 p.m. After he finishes perfecting his form, Santa and Mrs. Claus will make the rounds in the park and hear Christmas requests from his littlest fans.

This fun-filled event is free with park admission. Dog lovers, take note, the park welcomes four-footed friends, too!
December 3, 2009