Run a big race at America's biggest home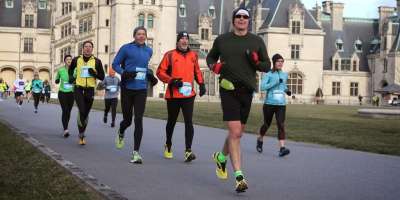 Asheville's full and half marathons offer challenges, views
Courtesy of the Asheville Marathon/iDaph Events
If you're one of the many people who resolved on January 1st to get fit or stay fit, or if you chose 2014 as the year you would complete your first—or your hundredth—marathon, Asheville is happy to help.
On March 16, runners in the second annual Asheville Marathon will explore the backyard of Biltmore, America's largest home, on a full or half marathon course that will take them by the 250-room house, through the gardens and meadows and onto parts of the estate normally closed to the public.
The course offers breathtaking views of the French Broad River and some of the oldest mountains in the world and includes paved, gravel and dirt terrain. And for those whose ultimate goal is to cross the finish line in Boston, the Asheville Marathon is a certified Boston Qualifying event.
Registration is open on the
Asheville Marathon website
. (As of today, there are
only 14 spots left
for the half marathon!)
Need more of a challenge?
If the though of running 26 miles seems a little, well, boring, then check out some of the area's more strenuous events. The annual
Mount Mitchell Challenge
is held each February and takes runners from downtown Black Mountain to the summit of the highest peak east of the Mississippi River and back again—a 40-mile loop with a 2,360-foot elevation gain in just the first half! This event is already full for 2014, but check the
website
 in September for registration details.
Asheville is also welcoming a brand new 13.1-miler for 2014: The
Asheville Half Marathon
is scheduled for June 7 and will wind from the streets of downtown to the banks of the French Broad River and back.
Or, if you think you have what it takes, you could shoot for the
Royal Trifecta
, which is earned by completing all three races held annually on the Biltmore Estate, including the Asheville Marathon, the
Kiwanis Classic 15k or 5k
, and either the
Asheville Duathlon
(an off-road bike ride, sandwiched by two runs) or 10k trail run, which is new for 2014.
What adventure does Asheville hold for you this year?
January 18, 2014