Ride the Rapids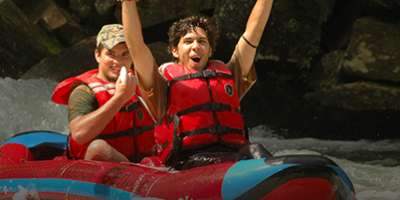 Asheville Insider Tip: Our Rivers Were Made For Riding.
One of the most accessible ways to experience an outdoor adventure is on a whitewater rafting trip. With mountain rivers ranging from calm to holy-moly you'll can find the right speed for your preference.
If you're an adrenaline junkie in search of your next adventure, then try a trip down the Ocoee River, full of challenging class III and IV rapids. Too tame for you? Head down to the Chattooga River and ride section four for some of the most extreme class IV and V wildwater in the area, including the famous "Five Falls."
Looking for something a little less hair-raising? The Nantahala is a perfect river for those who want something a little slower and easy to navigate. All age groups can tackle this adventure which includes an optional class III rapid at the end. You can also find lazy rivers like the Tuckaseegee which have guided raft trips, but are just as much fun to tube. Another popular calm river spot is along the Asheville corridor of the French Broad River. Take a leisurely one mile ride downstream and make a pit stop at The ByWater, a favorite hangout for Asheville locals.
June 30, 2013