Recipe: Blueberry Black Peppercorn Bacon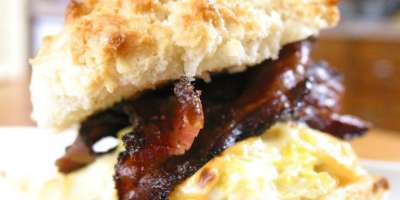 Biscuit Head, Your New Favorite Breakfast Spot in Asheville.
A new west Asheville restaurant has opened its doors and  promises to become your primary go-to spot for breakfast. Biscuit Head is the brainchild of Lexington Avenue Brewery chef Jason Roy and his wife Carolyn. As the name might suggest, the house specialty is cat-head biscuits, served with just about everything you can think to put on top of them.
The Fixins'
Aside from a full range of biscuit sandwiches on the menu, you can build your own creation. Sink your teeth into some of these tasty toppings.
Butter Bar - Choose from about 6-8 varieties of spread.
Jam Bar - Options range from Curry Molasses to Mulberry to Watermelon. 
G.O.D. - (Gravy of the Day) Go this route or choose from 5 other types of gravy including espresso red eye, house-made seitan or smoked tomato creole. (Yum!)
Bacon of the Day - This speaks for itself. 
Recipe: Blueberry Bacon
Want to bring some Asheville flavor into your kitchen. Try this Biscuit Head recipe and spice up your bacon with blueberries and black peppercorn.
Ingredients:
1 pint of local blueberries (washed)

1 C. brown sugar

1 T. fresh cracked black peppercorns (coarse)

1 lb. Thick cut local bacon
Method:
In a medium sauce pot add blueberries, sugar, and black pepper.

Cook over medium high heat until mixture has boiled for 8 minutes.

Preheat oven to 300.

Layout bacon strips on a cookie sheet and paint the blueberry-black peppercorn syrup over the bacon.

Cook at 300 for 22 minutes or until desired doneness.

Enjoy this bacon with just about anything.