Radiant Orchids Brighten Biltmore's Conservatory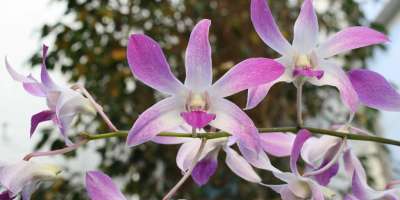 Guided tours showcase exotic blooms in every hue
Could the Vanderbilt's have been 100 years ahead of their time? It would seem so. Just as the
color experts at Pantone name "radiant orchid" the color of the year for 2014
, the Conservatory at
Biltmore
is opening their doors to show off their own orchid collection built over more than a century.
Apart from the beautiful architectural design and the warmth that makes it a welcome destination on a chilly day, George W. Vanderbilt's 7,000-square food conservatory holds numerous plant species from near and far, including palms, cacti, ferns and—of course—orchids. When George Vanderbilt was filling his conservatory, he actually had more than 800 different orchids on his wish list. Biltmore's orchid expert Jim Rogers has actually procured some of the heritage varieties on the original list, and they can be seen on display in the Conservatory today.
Now through March 19,
Biltmore's expert gardeners are offering educational orchid talks
on weekdays at 11 a.m. in the Conservatory. Visitors can learn about what's in bloom that day, as well as about the history of orchid cultivation and Biltmore's heritage flowers. Growing tips and general care information will also be offered. Capacity is limited, and orchid talks are free with the
price of estate admission
.
Discover Asheville's secret gardens
January 29, 2014