Putting the SHE in Asheville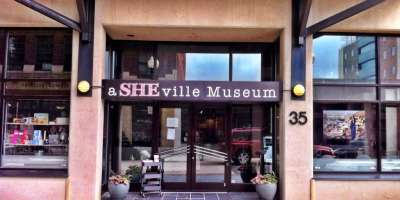 New cultural museum tells women's stories
Photos courtesy of aSHEville Museum.
There's a sparkling new storefront on downtown Asheville's Wall Street, set between a bar and a soap shop and boasting a sign with some unusual capitalization. The
aSHEville Museum
recently opened its doors with a mission to tell the "her" side of history.
When fully operational, the 3,000 square foot museum will host up to 10 exhibits at one time. Initial exhibits include a feature on Appalachian women, a review of 100 years of sexism in advertising, and "Woman: Beauty is Embarrassing," a photo exhibit focusing on the abilities and limitations of women's bodies.
Future exhibits will encompass a wide scope of topics including historic and contemporary stories, and both local and global subjects.
The
aSHEville Museum
also includes a gift shop stocked with art, crafts and gift items made by local and regional artists, as well as fair-trade items made by women around the world. A small European-style cafe offers a place to sit and enjoy a selection of teas, pastries, chocolate and healthy salads and sandwiches.
From now through August 15, the museum is offering a sneak peek of its first round of exhibits. Admission fees are waived during this time, although a donation is appreciated. The museum is expected to have a full complement of exhibits sometime this fall, and
updates will be posted on the museum's website
.
August 1, 2014