President Obama Visits Asheville: Wants to Stay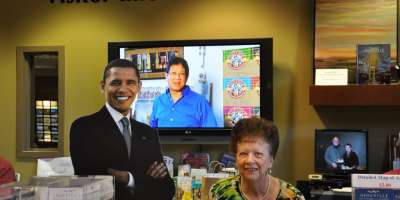 Asheville got a special visit from President Obama today as part of his nationwide tour to tout the benefits of his jobs bill.
"It is good to be back in Asheville North Carolina," said Obama. "It's always nice to get out of Washington and breathe some of that mountain air." T
his is Obama's third time visiting the area. Last time he came to the mountains was for a romantic getaway with the First Lady. They stayed at the famed Grove Park Inn, known for playing host to many past U.S. Presidents. If you want to experience the same luxury vacation the Obama's experienced, then check out this  special package. Also, here's the presidential itinerary outlining all of the different stops they made while touring Asheville.
What's most interesting from today's event is the commentary he made about his own job. According to sources, Obama said he loved this area so much that he "should be on the tourism promotion bureau." (Hey, that's us!) So in light of this statement, we've constructed what that would look like with these photos. Perhaps once he's finished running the country he would consider relocating and helping us run the visitor center.
Welcome to Asheville!
Good thing Obama has a sense of humor
Hi Mr. President!
Obama joins the Buncombe County Tourism Development Authority
*All images staged and photoshopped by the Asheville Convention & Visitor's Bureau
October 17, 2011