Posana Cafe's New Look, Plus Recipe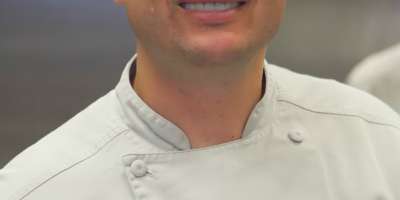 Taste of Foodtopia: Posana Cafe's Manchego Kale Salad Recipe.
Chef Pollay at Posana Cafe
Asheville's premier gluten-free cafe has undergone an extreme restaurant makeover. This spring, Posana Cafe shut its doors for a week-long renovation project and when the doors reopened, the final results were amazing! See for yourself with the photos below.
Posana, located in a prime spot for people watching in downtown Asheville, is known for offering upscale food items, but in a casual atmosphere. All of the menu items are made from scratch and as a bonus it is all 100% gluten-free. Since gluten is mostly found in processed foods you can be assured that their food uses only fresh ingredients. All breads, desserts and even hamburger buns are without gluten, but you'll never taste the difference.
Try it at home! Scroll below for their popular Manchego Kale Salad recipe!
Manchego Kale Salad 
by Posana Cafe
Ingredients
1 bunch Kale thin julienne

4 ounces Manchego Cheese grated

2 ounces pumpkin seeds toasted

2 ounces currants

2 each lemons juiced 

4 ounces olive oil

salt

pepper

 
Instructions 
1. Rinse the kale. Julienne thinly. Place in a mixing bowl. 
2. Cut lemons in half and squeeze juice over the kale. 
3. Drizzle 2 ounces of the olive oil over kale. Massage the kale and ingredients 
4. Add the Manchego cheese, pumpkin seeds and currants. 
5. Season to taste. 
6. Plate a generous portion per person. 
7. Garnish with more olive oil and pumpkin seeds.
Try these other delicious recipes from Foodtopia!