Plant's New Food & Wine Kudos, Plus Recipe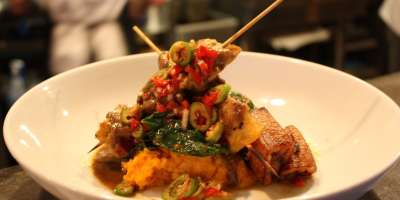 Taste of Foodtopia: Plant's Easy (& Vegan) Blackberry Sorbetto Recipe
Jerk grilled seitan, smashed sweet potatoes, sauteed
collards, spicy serrano crudo, fried banana and celtic salt.
Food & Wine Magazine recently featured Plant, Asheville's only all-vegan restaurant. The publication ranked them #7 in the list of Best 20 Vegan/Vegetarian Restaurants Around the Country.
This article highlights what many people in Asheville already knew... Plant is an incredible place to eat. Even carnivores love this restaurant! The flavorful dishes served up by chef Jason Sellers (previously the chef at Laughing Seed), are crafted in true Asheville style - scratch-made with locally-sourced and carefully selected ingredients. 
Jason Sellers
The Food & Wine article noted these offerings:
"Gluten-free beer and biodynamic wines paried with Asian dishes like curry tofu with Thai basil." 
Other favorites include their Raw Enchilada, Wild BBQ and the Cherrybomb Cheesecake. How do they make those dishes vegan? That's the magic of Plant, and one reason they are one of the best.
Make plans to dine at Plant for dinner. They open daily at 5:00 p.m.
Blackberry Sorbetto Recipe
July is blackberry season in western North Carolina.  The berries are delicious—plump, juicy, and bursting with flavor—but they are also quite perishable.  When the bumper crop hits, sorbet is a great way to make the most of this highly seasonal delight.  One needs a blender and a home ice cream machine; if you have a traditional hand-crank machine and some rock salt, even better. Best of all, this tasty treat is 100% vegan!
Recipe
Serves a few small scoops to 4
Ingredients
1 pound fresh blackberries

1 heaping cup sugar

1 cup water

pinch salt

1/4 cup lemon juice

dash vanilla
Instructions
1. Prepare the fruit.  
2. Bring the sugar, water, and pinch of salt to a boil in a sauce pan.  
3. Lower the heat, add the fruit, and cook for 1 to 2 minutes, depending on fruit.  
4. Cool the fruit and sugar mixture, and add the lemon juice and vanilla.  
5. Blend in a blender until smooth, and process according to your ice cream machine manufacturer's guidelines.  
6. Freeze to harden before enjoying, or eat it soft, right out of the machine.  
Learn more about Plant.
July 19, 2013