[PHOTOS] Gingerbread Winners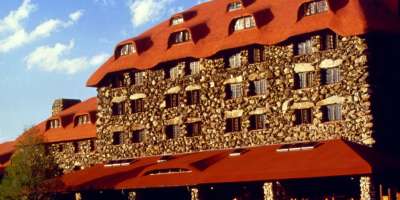 National Gingerbread Competition Announces 2012 Winners.
On Saturday, November 17th, a full house of spectators and anxious competitors gathered for the awards ceremony of the 20th anniversary of The Grove Park Inn National Gingerbread House Competition in Asheville, NC. 
There were 182 entries that were judged throughout the day by a panel of elite judges whose backgrounds range from world-renowned sugar craft arts and pastry chefs to cookbook authors, a cake baker for the stars and a curator for the Metropolitan Museum in NYC.
Entries were judged on overall appearance, originality/creativity, difficulty, precision and consistency of theme. Except for the base, the entries must be constructed entirely of edible materials. This year the cash and prizes nearly doubled. The Grand Prize Winner received $7500 in cash and prizes. 

Winners in this year's National Gingerbread House Competition are:
Grand Prize Winner (First Place – Adult): Ann Bailey, Cary, NC
Second Place Adult: Linda Carney, Asheville, NC
Third Place Adult: Glenda Tant, Lebanon, TN
First Place Teen (13-17 years old): Carly Owens – Swannanoa, NC
First Place Youth (9-12 years old): Lydia Gentry, Hendersonville, NC
First Place Child (5-8 yrs. old): Briley Ervin, of Greenback, TN

All entries from The National Gingerbread House Competition will be displayed at The Grove Park Inn from November 20th, 2012 through January 2nd, 2012.

Non-overnight guests of the inn are welcome to visit Monday – Thursdays (excluding Fridays – Sundays, Thanksgiving, Christmas Eve, Christmas Day, New Years Eve and New Years Day) to view the Gingerbread display and expanded holiday décor.  

Outdoor parking will be $10, garage $12 and valet $15 – per car.   Everyone is encouraged to ride the Asheville City bus or a trolley. Every weekend you can get a sneak preview of some of the top gingerbread winners at The Grove Arcade.

Learn how to make your own gingerbread creation.