Photos: 2014 Gingerbread Competition Winners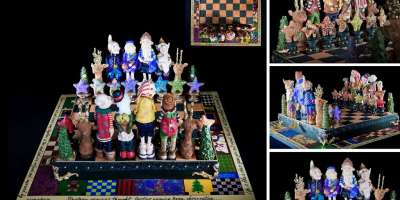 See 150+ entries on display at Omni Grove Park Inn



Early last week, more than 150 sweet creations arrived at The Omni Grove Park Inn for the 22nd Annual National Gingerbread House Competition.

These confectionery creations, which do not have to be a "house" but which are required to be 100% edible and at least 75% gingerbread, were judged by a panel of elite judges, including award-winning chef Cheryl Forberg, Metropolitan Museum of Art curator Nadine Orenstein, and Aaron Morgan, author of Making Great Gingerbread Houses. Entries came from as far away as New Mexico and were judged on overall appearance, originality/creativity, difficulty, precision and consistency of theme.

Check out these photos of the winning entries:


Grand Prize Winner - Adult: Anne B. Bailey from Cary, N.C.
Teen (13 to 17-year-olds) First Place: Courtland High School German Club from Spotsville, Va.
Youth (9 to 12-year-olds) First Place: Chloe Grace Jennings and Allie Church from Pulear, N.C.
Child (5 to 8-year-olds) First Place: SaraBeth Robinson from Palmyra, Va.


All entries from The National Gingerbread House Competition will be on public display at The Omni Grove Park Inn now through January 1st. There is no fee to view the display; however there is a holiday parking charge of $10 per vehicle, with part of the proceeds benefiting six local non-profit organizations,



Discover more of the holidays at The Omni Grove Park Inn.