Photos: 2013 Gingerbread Competition Winners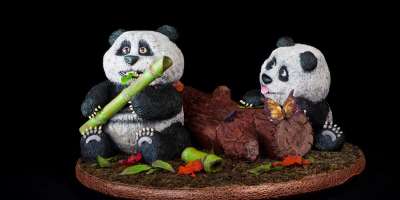 Tasty Creations Bring Home Prizes



On Monday, spectators and competitors gathered for the awards ceremony of the 21st Annual National Gingerbread House Competition at The Omni Grove Park Inn. More than 150 entries were evaluated  by a panel of elite judges including world-renowned sugar craft arts and pastry chefs, cookbook authors, a cake baker for the stars, a curator for the Metropolitan Museum in NYC and Cheryl Forberg, nutritionist for The Biggest Loser.

Entries were judged on overall appearance, creativity, difficulty, precision and consistency of theme. Except for the base, the entries are constructed entirely of edible materials.

Check out these photos of the winning entries:





Grand Prize Winner - Adult: Kimberly Thalman from Franklin, WI
Adult Second Place: Glenda Tant from Lebanon, TN
Child First Place: Briley Ervin from Greenback, TN
Youth First Place: Amanda Spafford from Maryville, TN 
Teen First Place: Courtland High School German Club

from Spotsylvania, VA
The competition welcomed its first international entry from

Kristin DeFilippis and John McGinley of Toronto, Ontario Canada.

All entries from The National Gingerbread House Competition will be on public display at The Omni Grove Park Inn from Nov. 20, 2013 – Jan. 2, 2014. There is no fee to view the display; however there is a holiday parking charge of $10 per vehicle with part of the proceeds benefiting local non-profits.