PHOTO TOUR: Asheville Art Museum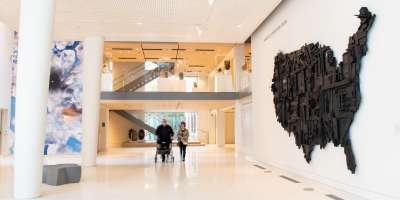 The Asheville Art Museum has reopened in November 2019 after a three-year, $24-million renovation. The new state-of-the-art facility is 54,000 square feet and adds 70 percent more collection space. With the added space, the museum is able to host major traveling exhibitions.
The new features include a rooftop terrace and café offering gorgeous mountain views. In the museum's SECU Collection Hall, you'll find The Oculus, a 15-foot viewing window providing a unique city view, along with 10 new galleries. And, the Wells Fargo ArtPLAYce is a new hands-on creative space for families.
The museum will host a variety of rotating exhibitions, including opening exhibition Appalachia Now! This juried display features 50 artists of diverse backgrounds from the region and provides a snapshot of contemporary Southern Appalachian culture.
Join us on this quick photo tour for a first look at the new museum!
Windgate Foundation Atrium

Wesley Clark, My Big Black America, 2015, stain, spray paint, latex, and salvaged wood
When you enter the museum, you'll first step inside the beautiful Windgate Foundation Atrium. Here, you'll find large-scale works artfully presented against white walls illuminated by natural light flooding in from the large windows.
Appalachia Now! Exhibition
Beginning on the main level, you'll experience the exhibition Appalachia Now! An Interdisciplinary Survey of Contemporary Art in Southern Appalachia. Appalachia Now! is the inaugural exhibition of the newly renovated Asheville Art Museum. The exhibition provides a regional snapshot of contemporary art.

Clarissa Sligh, Blessing of the Men (detail), 1996-2017, mixed-media installation including nine silver-gelatin prints, 2000 gold and silver foil and acid-free black paper origami cranes strung with glass beads, 48 × 192 × 60 inches. Randy Shull & Hedy Fischer Collection of Contemporary Art, promised gift to the North Carolina Museum of Art. © Clarissa Sligh. Background: Colby Caldwell, spent (99), 2010-2019, archival inkjet print, hand-waxed and mounted on Dibond, 104 x 55 inches.

Jered Sprecher, Invisible as Music, 2019, oil on canvas.

Ted Pope, The Buds of the New Antlers, 2019
The exhibition continues upstairs in another of the stunning new galleries.

Foreground: DeWayne B-Love Barton, George Washington Carver, The Third Eye, 2019, paint on wood/found objects. Background: Valeria Watson, Trial by Fire, 2013-2015, mixed media on panels.
Intersections in American Art Exhibition
The other inaugural exhibition, Intersections in American Art, is the major reinstallation and reinterpretation of the Museum's Collection in the newly-expanded space. A national team of scholars and experts in the field worked with the Museum to develop this exhibition. 

Sam Gilliam, Wall Circle I, 1972, acrylic on shaped canvas.

Foreground: Susan Weil and Jose Betancourt, Leaf Hands, 2007, cyanotype and mixed media on paper on plexiglas. Background: Jo Sandman, Love, 1960, oil and enamel on canvas. 

Foreground: Lonnie Holley, For Every Woman I Have Seen Parts of Africa's Dream in Her Honor (detail), 1993, found objects, wire, stone, paint, and Plexiglas. Background: Roger Brown, Plants That Glow in the Dark Tra-La, 1986, oil and phosphorescent paint on canvas.
The Oculus
Toward the back of the gallery currently displaying the Intersections of American Art exhibition you'll find The Oculus. The Oculus is 15-foot viewing window that provides a unique city view of Pack Square and College and Broadway Streets in downtown Asheville.

Rick Beck, Dawn, 2001, glass, steel, and wood. 
Perspective Cafe and Rooftop Sculpture Terrace

At the top of the museum, you'll find this bright and inviting cafe. Enjoy a coffee or snack as you enjoy the sweeping view. Or, head outside on the Rooftop Sculpture Terrace for an even better view of the city and the mountains.

Donald Sultan, Big Yellow Poppies, 2015, painted aluminum.

Asheville Art Museum Important Information
Museum admission: 
$15 adults
13 adult discounted admission (senior 65+, groups**)
$10 student discounted admission (child 6–17, degree-seeking college students with valid ID)
Free for military and immediate family with valid ID (Armed Services Day through Labor Day)
Hours: 11 a.m. to 6 p.m. daily (open until 9 p.m. Thursdays). Closed Tuesdays.
Location: 2 South Pack Square, Asheville (Downtown Asheville)
Programming: The museum offers programming including Early Bird Yoga (third Saturdays), Second Saturdays scavenger hunts and Artful Adventures kid-friendly tours (first Saturdays).  
Insider Tip: The museum stays open until 9 p.m. on Thursdays – perfect for catching sunsets on the rooftop sculpture terrace while sipping a drink!