Photo of the Day: Chimney Swifts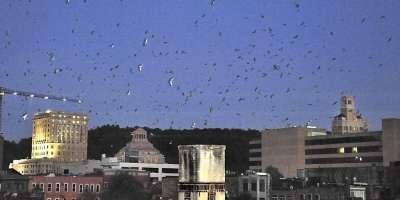 Every year the bird migration brings a spectacle to the Asheville downtown area. The birds are called Chimney Swifts due to their nature of nesting in large open chimneys. At night, usually just before dusk they take to the sky in a flurry of excitement before settling down for the night. If you're out and about around that time you can't help but spot them because they cause such a commotion. They pass through the mountain area quickly so be sure to go see them soon. The Grove Arcade area is generally a good spot to see them.
Special thanks to the Asheville Citizen-Times for providing the photo. You can read the full story here.
October 8, 2011