Photo Book Demystifies Mountain Peaks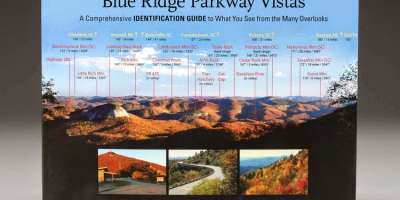 Asheville photographer's new Parkway identification guide
Blue Ridge Parkway Vistas by photographer Tim Barnwell.
If you've ever stood at a mountain overlook in awe of your surroundings and wondered what, precisely, you were looking at, then photographer
Tim Barnwell
's newest book needs a spot on your shelf.
Blue Ridge Parkway Vistas: A Comprehensive Identification Guide to What You See From the Many Overlooks
is a beautiful photo book and guide, featuring the views from more than 40 overlooks along the
Blue Ridge Parkway
. Each image also labels the peaks in view, lists their distances and heights and puts them into context of nearby towns, major roads, rivers and lakes.
In addition to the peaks, the 128-page book also offers visitor information about nearby attractions, waterfalls, shops and museums, as well as views from several popular spots such as Biltmore and Chimney Rock State Park.
Blue Ridge Parkway Vistas
can be
purchased online
and also at
the Asheville Shop at the Asheville Visitors Center
at 36 Montford Avenue.
Discover the Blue Ridge Parkway, including the view from atop Mount Pisgah.
September 4, 2014