Organicfest Celebrates 10 Years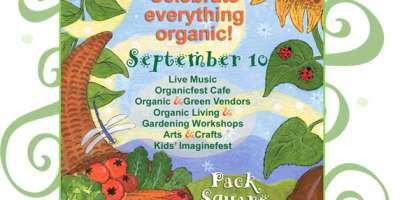 Head down to Pack Square this weekend for the 10th anniversary of Organicfest. This downtown festival will provide you with a day of live music, vendors and great food. 
Entertainment includes music by Sirena Squires, Dawn Humphrey, Ian Booth, Jimmy Landry, Chriss Rosser, Jen Worthen, Coco Palmer/ Tom Dolce, Cliff Rubin, Lyndsay Wojcik, Jeff Michels, Highlight, Richard Shulman, Every Mothers Dream, Terry Kirkpatrick, Ginny Waite and Sonia Kelley.
September 9, 2011